Guidance to Compliance: Asbestos Webinar
ABOUT
Join our webinar to learn about asbestos and how to start and maintain compliance to local legislations.
Starts
01 Apr 2019, 22:00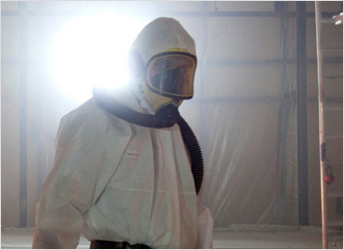 Objective
Our asbestos experts will cover the following topics:
Quick insight into the international use of asbestos, currently and in the past
Preview of the SGS Asbestos Compliance Tool: a tool developed by worldwide experts and giving access to asbestos related legislations of over 50 countries or jurisdictions
Free access to the SGS Online Asbestos E-learning: a practical training tool for you and your colleagues
Agenda
Introduction of speakers
What is Asbestos?
Health risks
Recognising Asbestos
Laws & Regulations *Asbestos in practice
Q&A
Background
Many corporations are dealing with various complex asbestos issues. What are the risks of working with asbestos? Is your company compliant to local legislations? How to act safely in an asbestos containing environment?
Language: English
Cost: Free
Presenters
Nicolas Kyndt
Nicolas Kyndt has been working for SGS for more than 15 years. As a hydrogeologist, he started his career at SGS Belgium in the contaminated land department. In the last 10 years, Nicolas has been in charge of the global strategy and business development for the Environment, Health & Safety division at SGS, based in Geneva. As such, he has been coordinating the global network of EHS experts, helped develop new services in new geographies, acquired new businesses and integrated them in the SGS network. He has a broad understanding of the global EHS obligations and legislations around the world.
Drs. Hans de Jong MRICS
Hans de Jong has been working for SGS SEARCH more than 15 years now and is in charge of a number of departments that are engaged in the research and advice on asbestos and other hazardous substances. In recent years, he has been setting up an international asbestos expert center for SGS, a worldwide network for the inventories of hazardous materials on ships (IHM) and coordinating the project management of large decommissioning and safety projects in the industry and building environment. He is also a director of the trade association for asbestos research companies and a member of the NEN asbestos committee in the Netherlands.
Nick Govers
Nick Govers has been working at SGS for 7 years, both as a consultant and project manager in the field of asbestos. Nick has wide experience in advising various multinational companies concerning their asbestos policies and standards. He executes project management and QA / QC of SGS global contracts for asbestos samples, analysis and training. He is also regularly involved in the engineering and supervision of complex asbestos removal projects.
Sessions
8:00 am London
3:00 pm London
Can't make a live session? Register now and receive a complimentary recording after the live event.