Improve Your Construction Business's Corporate Image and Credibility with Certification From SGS
ABOUT
Join our free webinar to discover how certification can help your construction business.
Starts
22 Sep 2021, 10:00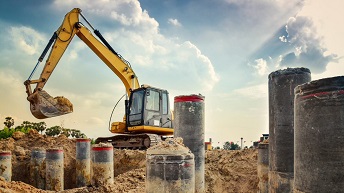 There are few industries more complex or competitive than the construction industry. Setting yourself ahead of your competitors is key to growth. Gaining certification is a proven method to improving your performance and helping you to win new customers.
Join our experts on 22 September to discover which management systems can take your business to new heights.
Agenda:
Introduction

Construction Products Regulation (CPR)

Timescales and deadlines

CE capability from SGS Portugal to accommodate UK CE requirements

Case study – Arcelor Mittal

Core standards

Quality management – ISO 9001

Environmental management – ISO 14001

Energy management – ISO 50001

Q&A
Presenters
Gary Beales - Business Development Manager - Construction & Sub Sectors
Having worked in systems certification for the last 10 years, Gary's knowledge and expertise covers management systems certification to a variety of standards. He also has a background and knowledge of second party auditing, corporate social responsibility audits and bespoke systems.
Prior to working with certification bodies, Gary's construction and highways experience was gained through the operations team of a technology company that specialized in the design, manufacture and installation of roadside traffic monitoring equipment. This included VMS Signs, Traffic Counting Systems via Inductive Loops and ANPR Camera Systems. This also included excavation of the highways and the installation of roadside equipment and furniture, all within the remit of National Highways Sector Scheme certification.
Paul Stock - Product Manager - Internal Quality Manager, ISO 9001 Product Manager & Principal Auditor
Paul is ISO 9001 Product Manager and Principal Auditor with SGS United Kingdom Ltd. His duties include responsibility for the delivery of ISO 9001, training of auditors, updating product procedures in relation to the ISO standard and company demands, and carrying out ISO 9001 assessments in various industry sectors including the oil (upstream and downstream), chemical, petrochemical, polymer, plastics and rubber industries.
Following a BSc in Physics, Paul has built a 30-year career with SGS, developing his quality management skills in various roles. In addition, he has gained extensive and thorough auditing experience in the manufacturing, distribution and service sectors.
Target Audience
This webinar is aimed at decision makers within the construction industry.
Language: English
Cost: No charge
Can't make the live session? Register now and receive a complimentary recording after the live event.
For further information please contact:
Yemisi Olutogun
Business Support
t: +44 (0)1276 697 715
ABOUT SGS
We are SGS – the world's leading testing, inspection and certification company. We are recognized as the global benchmark for quality and integrity. Our 93,000 employees operate a network of 2,600 offices and laboratories, working together to enable a better, safer and more interconnected world.