Introduction to FSC Chain of Custody Certification - Get Ahead of Government Requirements
ABOUT
SGS, in partnership with the FSC, will demystify CoC certification and clarify some of the common issues faced by suppliers when looking to display the FSC label on their products and licensing.
Starts
21 Apr 2021, 10:30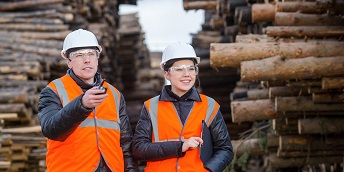 Get ahead of government requirements. FSC Chain of Custody (CoC) certification vastly reduces the risk of being confronted with illegal timber. A growing number of countries and regions have legislation banning the trade and use of illegally harvested timber and derived products. CoC certification meets UK Government Timber Procurement Policy and can be used as part of a due diligence system to meet the mandatory UK Timber Regulation (UKTR).
Agenda:
Introductions

Packaging for protection, promotion and plastic reduction (FSC)

FSC labels explained (FSC)

FSC certification and licensing (FSC)

How chain of custody certification can support your business (SGS)

Chain of custody certification and your supply chain (SGS)

Q&A
PRESENTERS
Rachel Hembery, Business Advisor, FSC UK
Rachel has worked in the environmental sector for more than 30 years. She managed the WWF UK Forest & Trade Network until August 2005 and in 2006 co-founded partnership consultancy, Ethical Change. At FSC UK, Rachel develops and delivers training and supports businesses in navigating the requirements of FSC certification.
Tallulah Chapman, Communications Manager, FSC UK
Tallulah has worked in a variety of roles at FSC UK over the last 14 years. Having advised and trained businesses in the application of FSC certification and the use of the FSC trademarks, she now heads up the UK's communications team. In her current role, she seeks out creative ways to engage and support businesses and consumers in the responsible sourcing of forest products.
Craig Thomas, Chain of Custody Operations Manager & Lead Auditor, SGS United Kingdom Ltd
Craig joined SGS in 2009 in the certification, quality control and administration department, which introduced him to the systems used by the certification body. In October 2011, he qualified as a Chain of Custody Lead Auditor and travelled extensively throughout the UK and Europe performing assessments/audits across a wide range of industries including print, packaging, joinery and wholesale.
In February 2017 FSC certification in the UK was housed under the SGS Specialist Products label and Craig was promoted to Chain of Custody Operations Manager, tasked with the maintenance and growth of the product.
Ellen Kane, Business Development Executive, SGS United Kingdom Ltd
After graduating from Liverpool Hope University with a first-class honours degree in Business Management, Ellen joined SGS in 2018 as Business Development Executive. She specialises in enquiries for FSC and PEFC for the UK and ISO certification for Northern Ireland, Wales and South West England.
Ellen's role involves presenting, promotion and selling certification products using solid arguments to existing and prospective clients across a varied range sectors and company sizes. She is experienced in performing cost-benefit and needs analysis of existing/potential customers to meet their needs while establishing, developing and maintaining positive customer relationships. Ellen is also a member of the Chartered Institute of Marketing and received a distinction in her Level 4 Certificate in Professional Marketing.
TARGET AUDIENCE
This webinar is aimed at all businesses trading in timber and timber-related products who are interested in becoming a Chain of Custody (CoC) certificate holder or are already one.
Language: English
Cost: No charge
Can't make the live session? Register now and receive a complimentary recording after the live event.
For more information, please contact:
Yemisi Olutogun
Business Support
t: +44 (0)1276 697 715
ABOUT SGS
SGS is the world's leading inspection, verification, testing and certification company. SGS is recognized as the global benchmark for quality and integrity. With more than 89,000 employees, SGS operates a network of over 2,600 offices and laboratories around the world.