Textile Products in the Sleeping Environment of Young Children
ABOUT
Join this webinar to learn about the rules and regulations governing sleep products for children – from cot bumpers to sleeping bags.
Starts
16 May 2019, 07:00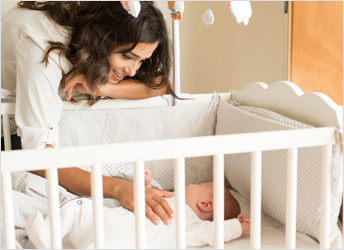 Bedtime should hold no fears, for children or their parents. But the sleeping environment of young children is full of potential hazards. In this webinar, we will explore the standards and requirements that protect some of our most vulnerable consumers – young children.
Since publication of a European decision in July 2010 on the requirements to be met by European standards for certain products in the sleep environment of children, European standardization committees have been working to develop draft standards – which have been published recently.
This webinar (40-minute presentation/20-minute Q&A) will give you the principles and requirements of these New European Standards, published by CEN in 2018. From cot bumpers and duvets, to sleep bags we will guide you through the latest standards and test methods, highlighting the potential hazards along the way.
Our Agenda
Standard origins

Previous situation
Commission Decision of 2 July 2010
Assessment of hazards
Time line

General and common requirements

Chemical hazards
Thermal and fire hazards
Inherently safe design
Marking

Specific requirements

Cot bumpers (EN 16780)
Sleep bags (EN 16781)
Duvets for cots (EN 16779-1)

Overview of RAPEX cases
Who should join?
This webinar will be of benefit to retailers, brand owners, designers and manufacturers of children's sleep products.
Presenters
Catherine Follin-Arbelet – Global Business Development and Technical Manager, Juvenile Products
Catherine, who has years of experience in juvenile products, joined SGS in 2010. Prior to that, she worked in a private testing lab developing juvenile products testing services, and more recently, as Manager of Children Products testing, she has also gained extensive experience in toys and playground equipment testing. Today, Catherine participates in CEN standardization works through European working groups and is convener of two working groups on the safety of wheeled child conveyances (strollers/prams – pushchairs) and the safety of furniture for children (cots, chairs and tables for children, mattresses, etc.).
Valérie Cimetière – Global Expert, Textile Products
With a background in textile engineering, Valerie worked for 15 years in textile retailing companies before joining SGS in 2011. She is a member of CEN TC 248 and participates in the creation and review of these standards within the French standardization committee.
Language: English
Cost: No Charge
9:00 am British Summer Time (London, GMT +1:00)
For further information, please contact:
Stephanie Pionchon
Global Marketing Manager
t: +33 4 42 61 64 46