Kosher Certification: Trends, Challenges and Opportunities
ABOUT
Join our live webinar to learn more about Kosher certification, including key challenges and requirements for certification.
Starts
18 Apr 2018, 13:00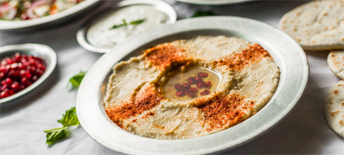 The objective of this webinar (45-minute presentation/15-minute Q&A) is to provide an overview of the Kosher market, its current status and forecasted growth, discuss some key generic compliance requirements, highlight any points of differentiation amongst the different Kosher certification standards, and identify key challenges and requirements in Kosher certification.
Agenda
Background to Kosher Certification
The global Kosher market: market size, trends & forecasts
What Kosher means to the consumer
Global recognition for a global market
Kosher standards and generic compliance requirements
Common non-conformities and corrective actions
Kosher certification through SGS
Conclusions
Q&A
Background
Demand for Kosher certified products has been growing very quickly. In recent years, sales of Kosher certified products have grown at an annual rate of 15%. In fact, 'Kosher' was the most frequently used claim on new products launched in the US according to recent market research, more frequently used than 'All Natural' and 'No Additives or Preservatives'. Furthermore, nearly 80% of all Kosher food sales are sold outside of the "Traditional" Jewish market. Currently, close to 1 million products are certified Kosher and consumers spend over 200 billion USD on these Kosher products annually. For millions of consumers, the Kosher symbol has become synonymous with accountability, quality, and food safety.
Presenters
Evangelia Komitopoulou, SGS Global Customized Solutions Manager, Food Safety & Quality
Evangelia is responsible for leading the development of customised food safety and quality solutions within SGS, providing all the necessary food safety and quality technical support to the global network of certification and auditor teams. A food microbiologist by background, Evangelia is responsible for designing and deploying new global services and solutions across the SGS global network and working with industry to tailor those services to meet individual requirements. With a career which includes over 15 years spent in food safety technical consultancy, trouble-shooting and contract applied research and development, Evangelia is also the author and editor of many technical reports and articles.
Richard Wood, Director of Business & Marketing, Kosher Check Kosher Certification
Richard Wood has worked for Kosher Check since 2010 and is the 'go to' person responsible for client relations, marketing, and development. Richard has over 15 years of management experience in the food industry. Richard has a degree in Hotel Management and is currently working towards an MBA.
Target Audience
This webinar is aimed at anyone interested in learning more about the trends, challenges and opportunities involved in Kosher certification.
Language: English
Cost: No Charge
Can't make the live session? Register now and receive a complimentary recording after the live event.
Schedule:
Wednesday, 18 April, 2018
4:00 pm Paris, Berlin, Madrid, Amsterdam (European Summer Time)
3:00 pm London (GMT Summer Time)
10:00 am New York (Eastern Standard Time)
7:00 am San Francisco (Pacific Daylight Time)
For more information, please contact:
Jennifer Buckley
Global Food Marketing Manager
t:
+1 973 461 1498