FSMA and the Global Supply Chain
ABOUT
Join this webinar, presented by SGS and Transparency-One, to explore the impact of FSMA on supply chain management practices within a global regulatory framework, and the role of technology and smart solutions in facilitating compliance and ensuring transparency.
Starts
08 Jun 2017, 14:00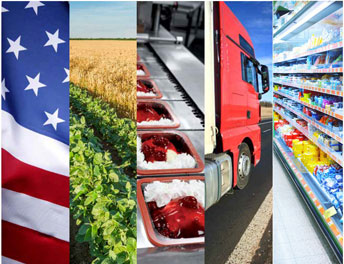 The objective of this webinar (45-minute presentation/15-minute Q&A) is to facilitate the compliance journey for the food industry. The webinar addresses the following main topics:
FSMA supply chain management requirements and best practices
The role of technology in supply chain transparency
Smart technologies for managing regulatory data across multiple geographies
Agenda
Building a compliant supply chain under FSMA
Ensuring supply chain transparency
Managing big regulatory data
Q&A
Background
Regulatory requirements, customer expectations, together with technological advancements of the fourth industrial revolution are pushing the food industry into reinventing itself by exploring new means for compliance, efficiency, brand protection and sustainability. Besides its regulatory significance as the most sweeping food law of the world's largest economy, FSMA has had significant impact on the way the industry approaches supply chain management and transparency through technology and innovation.
Presenters
Hank Karayan
Hank Karayan is the Global FSMA Program Director at SGS. He joined SGS in 2011 as an International Solutions Manager. Hank started his career as a quality and food safety consultant and trainer. Prior to joining SGS, Hank held various managerial positions in international consulting, training, innovation and compliance. He has global expertise and has led many regional and global initiatives, including food safety and compliance programs. With a Bachelor of Science in Biology and an MBA, Hank brings together a wealth of international and local experience both technical and managerial.
Chris Morrison
Chris Morrison is the Chief Executive Offer of Transparency-One. Transparency-One's mission is to partner with the network of companies supporting the world's consumer product supply chain to create a healthier, safer, and more sustainable world for consumers. Chris has an extensive background in transformative technologies for the retail and consumer products industry across the areas of big data analytics, supply chain management, and product lifecycle management. He has held executive roles at Oracle, Trace One, and Bamboo Rose. He holds an MBA and Masters of Engineering from the Massachusetts Institute of Technology and a Bachelors of Engineering from the University of Pennsylvania.
Nicola Colombo
Nicola Colombo is the Global Head of Digicomply at SGS. Nicola has been providing food industry solutions for the last 20 years with a specific focus on regulatory compliance and product information management systems. He has helped hundreds of clients globally to effectively innovate their processes and consistently leverage technology based solutions to overcome ever-evolving regulatory compliance challenges. During his career, he has lived in the US, China, and Europe where he had the opportunity to understand each region's framework for global food trading.
This webinar is aimed at:
Food facility operators within and outside the US that are required to comply with the FSMA Preventive Controls for Human Food, FSMA Preventive Controls for Animal Food or the Produce Safety Rule
Importers that need to comply with the FSMA Foreign Supplier Verification Program (FSVP)
All suppliers, professionals and others who wish to be educated on the topic
Language: English
Cost: No Charge
Can't make the live session? Register now and receive a complimentary recording after the live event.
Schedule:
Thursday, June 8, 2017
3:00 pm Paris, Berlin, Madrid, Amsterdam (European Summer Time)
2:00 pm London (GMT Summer Time)
9:00 am New York (Eastern Standard Time)
6:00 am San Francisco (Pacific Daylight Time)
For more information, please contact:
Jennifer Buckley
Global Food Marketing Manager
t: +1 973 461 1498