Perfecting The Customer Journey and Gaining A Competitive Edge
ABOUT
Join us to discuss how commercial and public sector organisations can successfully work together to deliver integrated services that offer customers a seamless journey, and how can they create a unique competitive offering for those wishing to bid or renew public sector contracts.
Starts
14 Oct 2016, 08:15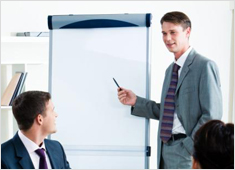 By attending our free, two-hour breakfast session, you can gain insight to how organisations successfully overcome these obstacles. The seminar will concentrate on how the customer service landscape is changing and what you can do to stay ahead of the curve.

The seminar, which will be held at the state-of-the-art Network Rail training facilities, will start proceedings with complimentary breakfast, before moving on to a discussion about outsourcing, its implications for customer service and how to gain a competitive edge in the current climate.

The morning will then conclude with a coffee and networking session, where you have the opportunity to involve yourself with one of our Customer Service Excellence experts in a personal consultancy, or simply discuss the topics of the day further with your peers.

The morning will start at 8.15am and will run until 11am.

During the seminar, we will discuss:  
The outsourcing landscape                                                              
Collaboration and integration
How to achieve an end-to-end service                                                          
Customer Service Excellence; the proven government solution
Putting a co-ordinated approach into practice
 The breakfast seminar will be beneficial to:
Departments within public sector organisations that outsource services or buy in integrated services.
Smaller service companies who wish to provide integrated services to public sector.
Third Sector organisations who's funding relies significantly on public sector finances and provides a service that has a shared customer journey.
Partnerships between public bodies (may include a commercial organisation).

To register please choose 'Register' from the top of the page.