On the Road to IATF 16949:2016
ABOUT
Learn more about the updates in the release of the first edition of the new IATF 16949 and transition timelines.
Starts
20 Oct 2016, 09:00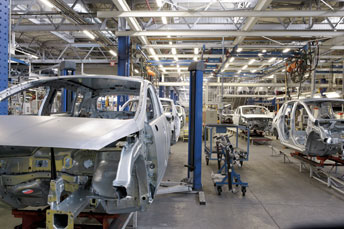 In August 2016, the International Organization for Standardization (ISO) and International Automotive Task Force (IATF) agreed to discontinue the joint development of ISO/TS 16949, the well-known technical specification for automotive sector quality management systems.
IATF will now release the first edition of the new IATF 16949.
The objective of this webinar is to update SGS's customers and any other interested parties on the timeline for suppliers to implement the necessary changes, to present the road map to and the critical steps for transition. However, technical changes to the standard will not be discussed at this time as this information has not yet been released.
This webinar will provide information about the timescales for IATF 16949 transition, and to allow interested parties to ask questions regarding those timescales. We will cover:
The IATF decision to publish the IATF 16949 standard as a separate document
Guidance for the transition from ISO/TS 16949:2009 to IATF 16949:2016
Updates from IATF since April 2016
Presenter
Mr. Neil Hall, Global TS Product Manager
This webinar will be most of interest to:
Current and potential clients
Consultants
Current qualified internal ISO/TS 16949 auditors
New internal auditors for IATF 16949
Quality Managers
Quality Directors
Quality systems engineers responsible for implementing and maintaining IATF 16949
Supplier Quality Assurance Manager, engineers and consultants, Tier 1 and Tier 2, etc.
Currently certified Automotive Tier 1 and Tier 2 that are looking forward to transition to IATF 16949:2016 or new clients seeking first time certification to IATF 16949:2016
Register for Session 1
9:00 am London (GMT Summer Time)
10:00am Paris, Berlin, Madrid, Amsterdam (Europe Summer Time)
4:00 pm Singapore, Kuala Lumpur (Singapore Time)
5:30 pm Darwin (Australia Central Time)
Register for Session 2
4:00 pm London (GMT Summer Time)
5:00 pm Paris, Berlin, Madrid, Amsterdam (Europe Summer Time)
8:00 am San Francisco (Pacific Daylight Time)
1:00 pm Brazil (S. America Eastern Standard Time)
*The webinar session will be recorded and shared with you 48 - 72 hours after the live event.
For more information, please contact:
Joanna Marie Caumeran
Global Marketing Services Coordinator
t: +63 (2) 848 0777