On the Road to ISO/TS 16949:2016 Webinar
ABOUT
View our complimentary webinar to learn about the transition to ISO/TS 16949:2016 and find out how to implement the necessary changes as quickly and smoothly as possible.
Starts
26 Jul 2016, 09:00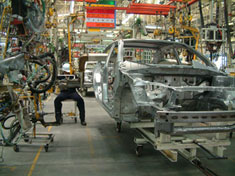 The first draft of the fourth edition of ISO/TS 16949, the standard for automotive quality management systems, was reviewed at the International Automotive Task Force (IATF) stakeholders conference in April 2016. Delegates from all sectors of the industry discussed the key changes to the standard and provided extensive feedback to the working group in preparation for the final release of ISO 16949:2016, due on December 16, 2016.
This complimentary webinar, presented by Mr. Neil Hall, SGS Global TS Product Manager, will provide information about the upcoming changes. Participants will learn about the gap analysis tool that will be issued by IATF Global Oversight and have the opportunity to ask questions regarding the associated time scales.
The webinar will be of most interest to:
Current and potential clients
Consultants
Current qualified internal ISO/TS16949 auditors
New internal auditors for ISO/TS16949
Quality Manager
Quality Directors
Quality systems engineers responsible for implementing and maintaining ISO/TS 16949
Supplier Quality Assurance Manager, engineers and consultants, Tier 1 and Tier 2, etc.
Currently certified Automotive Tier 1 and Tier 2 that are looking forward to transition to ISO/TS 16949:2016 or new clients seeking first time certification to ISO/TS16949:2016
It will be conducted in English.
Register for Session 1 schedule
09:00 a.m. London (GMT Summer Time)
10:00 a.m. Paris, Berlin, Madrid, Amsterdam (Europe Summer Time)
04:00 p.m. Singapore, Kuala Lumpur (Singapore Time)
05:30 p.m. Darwin (Australia Central Time)
Register for Session 2 schedule
04:00 p.m. London (GMT Summer Time)
05:00 p.m. Paris, Berlin, Madrid, Amsterdam (Europe Summer Time)
08:00 a.m. San Francisco(Pacific Daylight Time)
12:00 p.m. Brazil (S. America Eastern Standard Time)
For more information, please contact:
Joanna Marie Caumeran
Global Marketing Services Coordinator
t: +63 (2) 848 0777