All - Energy Exhibition 2016
ABOUT
All-Energy 2016 is held annually in Glasgow. It has firmly established itself as the UK's leading renewable energy exhibition and conference. Each edition, All-Energy brings together the latest technologies and thought leaders worldwide.
Starts
04 May 2016, 08:00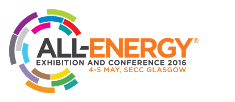 SGS United Kingdom Ltd is pleased to announce its presence at All-Energy 2016.
Attracting visitors from a variety sectors within the renewables industry including onshore & offshore wind, bioenergy, wave & tidal, sustainable cities and energy efficiency, All-Energy gives exhibitors the opportunity to do business with key international experts and buyers in one location. All-Energy offers structured networking opportunities to help suppliers establish relationships and secure business on a global scale.
SGS will be based at stand H75, talking to delegates about how internationally recognised management standards such as ISO 14001 and ISO 50001 can help to enhance the running of their business.The multi-faceted main conference programme alone will feature nearly 60 dedicated sessions on the hottest topics in the renewable and sustainable energy sectors, as well as those relating to smart sustainable cities. To view the schedule, please visit the All-Energy web-page, on this link.
To register as a delegate using our personalised link, please click here.