SGS to Speak at RPAS CivOps 2016
ABOUT
SGS will present "A New Generation of Risk Management" at the RPAS CivOps 2016 conference to be held at the Royal Military Academy, Brussels, Belgium, January 19-20 2016.
Starts
19 Jan 2016, 08:00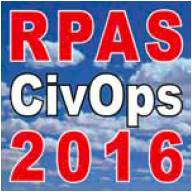 An international conference for the RPAS community focusing on the implementation of the European RPAS Roadmap, national regulatory matters, insurance, privacy & data protection, civil RPAS operational matters, current & future applications [commercial, non-commercial (corporate, governmental non-military)], current bottlenecks, technical and performance requirements, aerial work customer requirements, novel operations, operational experience & lessons learned.
Amongst others, the following topics will be addressed:
EC DG Mobility & Transport: Drones: The Proposed Way Forward - The European Aviation Package
EC DG for Internal Market, Industry, Entrepreneurship & SMEs: How «Product Harmonisation Legislation» & Market Surveillance Could Contribute to Drone Safety
EC DG European GNSS Agency
EC DG Humanitarian Aid & Civil Protection (ECHO): RPAS for Civil Protection
EASA: The EASA Opinion
SESAR JU: Towards the Integration of RPAS into the Aviation System
A special focus will be placed on the French national "Conseil pour les Drones Civils" and its activities.
The Drone-Rules.EU Consortium and its RPAS-related awareness creation project
Solutions for the safe integration of RPAS
Panel discussions will permit active interaction between panel members and the audience. The presentations and panel topics will broaden the awareness of current and potential RPAS operators, their current & potential customers, regulatory authorities & manufacturers.
The objective of the RPAS CivOps conference is to:
Increase awareness relative to currently on-going civil RPAS operations [commercial & non-commercial (corporate, research, governmental non-military)];
Give current civil RPAS operators the possibility to state their requirements;
Contribute to identifying the civil RPAS community to itself;
Highlight the diversity of current & potential civil RPAS applications and present business case examples;
Disseminate information on the currently on-going civil RPAS-related regulatory activities;
Permit potential customers of RPAS flight services to express their requirements;
Create a forum for current and future civil RPAS operators, RPAS manufacturers and the representatives of the organisations that are involved in preparing the future for civil RPAS operations to interact;
Present novel civil RPAS applications;
Discuss critical issues such as responsibility, liability, insurance, privacy & data protection;
Promote interaction with the decision makers in Brussels.
 The RPAS CivOps conference will bring together representatives of the following communities and organisations:
Current civil RPAS operators [commercial & non-commercial (corporate; research, governmental non-military)];
Organisations currently involved in preparing the future regulations for civil RPAS on a national & European level (incl. European Commission, EASA, EUROCONTROL, JARUS, SESAR JU, EUROCAE WG73 & WG93);
Manufacturers of civil RPAS (all aircraft types of all sizes);
Manufacturers of sub-systems for RPAS (including imagery & non-imagery sensors);
National Aviation Authorities;
Insurance companies (underwriters & brokers);
National associations involved with RPAS;
National working groups involved with RPAS;
Current & potential customers of RPAS flight s
Speaking on behalf of SGS will be Tracy Lamb, Global RPAS Safety Manager, SGS Hart Aviation
Tracy will be presenting "A New Generation of Risk Management" on 20 January at 11.45am – 12.00pm at the Business Design Centre, London.
The objective of this presentation is to outline the challenges and risks posed by the integration of RPAS not only into civil airspace but also commercial space, as well as the critical and multi-dimensional change in the approach to risk management for RPAS. It aims to highlight the importance of corporate responsibility and due diligence in enabling RPAS as part of a commercial operation. The presentation introduces that perhaps a culture shift in the industry is required for it's effective advancement.
For further information, please contact: 
Tracy Lamb
Global RPAS Safety Manager
Phone +44 (0)1276 697801
Mobile: +44 (0) 7841 569 558  
Or
Ricky Huntley
Regional RPAS Safety Advisor
Phone: +44 1469 557500
Mobile: +447796064121
About SGS
SGS is the world's leading inspection, verification, testing and certification company. SGS is recognized as the global benchmark for quality and integrity. With more than 80,000 employees, SGS operates a network of over 1,650 offices and laboratories around the world.