UK Drone Show
ABOUT
The UK Drone Show will cover all aspects of the drone industry and will be the largest drone event to ever happen in the UK.
Starts
05 Dec 2015, 09:00
Location
Birmingham, United Kingdom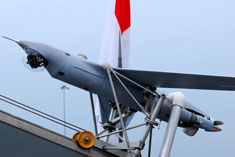 The UK Drone Show will cover all aspects of the drone industry and will be the largest drone event to ever happen in the UK.
This event is a premier opportunity for sales and marketing of your brand & service in the largest and most prestigious exhibition centre in the UK, taking place at the National Exhibition Centre (NEC) in Birmingham on the 5th and the 6th of December 2015.
The event will feature all the very latest aerial and terrestrial drone technology products and will focus on the safe use of drones,  CAA regulations and drone industry careers as well as top manufacturer product demonstrations and special guest speakers.
Speaking on behalf of SGS will be Tracy Lamb.
Tracy has 18 years of experience in commercial aviation with over 7000 flight hours as; an airline pilot on the Boeing 737, a senior flight instructor, charter pilot in the Australian outback, including FIFO ops, and as an international corporate jet pilot around the Asia Pacific Region.
Being passionate about flying and about safety, she is a specialist in human factors, crew resource management, safety systems and remotely piloted aircraft systems (RPAS) as well as a qualified Drone Pilot; she is an ISO 9000:2008 lead auditor, and conducts audits and inspections on fixed wing, rotary wing and unmanned aircraft operators and maintenance organisations, both internationally and around Australia.
Tracy holds awards for academic excellence in her undergraduate and post graduate qualifications in applied science (aviation), masters in business management, human factors and, in conjunction with RMIT University in Melbourne, Tracy is active in research and development, in the areas of safety and risk management in remotely piloted aircraft systems.
LEARN ALL ABOUT DRONES AND THE UAV INDUSTRY
UK UAV Training
FPV Racing
Aerial Robotic Agility
Humanitarian Technology
Agricultural Applications
Cinematography  Avoidance Systems
Aerial Photography
Mapping
Survey
Attendance over the course of the entire day is expected to be high given the unique location, attractions and the interest levels we have already received.

This is the perfect opportunity for consumer and commercial sales and to raise awareness of your service right in the heart of the UK.

Key Benefits for Attendees

Unique event to showcase products in an outstanding location
Network with Industry leaders
National press and TV coverage

Social media and Live video stream promotion
Business network – meet with a veritable Who's Who of the Drone industry

Marketplace understanding – gain greater knowledge of industry players and their roles
To find out more about SGS at the UK Drone Show contact:
Tracy Lamb
Global RPAS Safety Manager
Phone +44 (0)1276 697801
Mobile: +44 (0) 7841 569 558
or
Ricky Huntley
Regional RPAS Safety Advisor
Phone: +44 1469 557500
Mobile: +447796064121