Will your Weld procedure meet the UKCA requirements for pressure equipment?
As of 1 January 2023, all pressure equipment for sale in the UK must be UKCA marked. To satisfy the criteria for UKCA qualification, weld procedures and welder qualifications must be issued by a UKCA "Approved Body", such as SGS.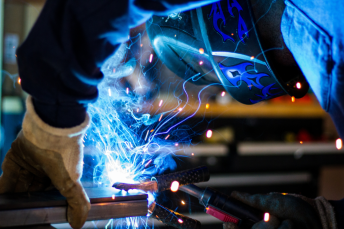 To comply with UKCA there must be a documented welding procedure qualification record (WPQR) to prove the welding process or processes proposed for use in construction can produce joints that have the required mechanical properties for the intended application.
Once the WPQR has been proven a welding procedure specification (WPS) which is a written instruction based on the variables of the WPQR is produced to ensure repeatability during production by the qualified welding personnel.
A Welder Qualification Test (WQT) is carried out to prove the welder has the ability to manually manipulate the electrode / welding torch to produce welds of an acceptable quality.
SGS is here to help you with your WPQR and WQT requirements.
We are a Type A inspection body, providing full WPQR and welder qualification service. We are also a Recognised Third Party Organisation (RTPO) from the Department for Business Innovation and Skills (BIS) which means we can conduct invigilation of weld procedure qualification records and welder qualification tests for work specifically for the Pressure Equipment (Safety) Regulations (PESR).
Peter Skillen, Weld Manager at SGS says: "Our invigilators are available nationwide and record all data needed to provide the certification. Once welding is complete, test pieces undergo mechanical testing at our UKAS accredited laboratory. Then on completion and acceptability of the test pieces our certification personnel produce the complete certification. To ensure continuous compliance we provide a programme for monitoring and managing qualifications and requalification of a company's welders."
The UK is in a grace period for CE mark performed by an EU27 Notified Body, this ends on the 1 January 2023. The time to prepare for the UKCA for pressure equipment to meet the UK regulations, is now.
About Pressure Equipment UKCA:
The regulation applies to manufacturers (or Importers) of pressure equipment, such as vessels, tanks, boilers, pressurised systems process installations that are to be placed on the market for sale in the UK. The equipment will still need to meet the CE mark for PED if it being placed for sale in the EU.
For further information please contact:
Pete Skillen
Lindsey Woods
About SGS
We are SGS – the world's leading testing, inspection and certification company. We are recognized as the global benchmark for quality and integrity. Our 93,000 employees operate a network of 2,600 offices and laboratories, working together to enable a better, safer and more interconnected world.