Traceability: Going beneath the surface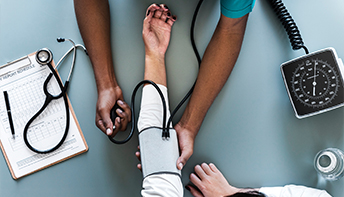 Most of the critical records, documents and mechanisms that ensure traceability between a device, the technical documentation it has been produced according to and the materials and sub-components that it is made from, remain unseen. These records, documents and mechanisms are nevertheless crucial to appropriate traceability, and understanding the nature of a medical device. These hidden elements play major roles in activities such as:
Problem-solving
Responding to nonconforming product
Improving the product
Ensuring that design is followed within the manufacturing facility
Ensuring that purchasing requirements are understood by the supplier
When things go wrong with devices, traceability is what end users, regulators and manufacturers rely on to identify the problem and take appropriate action. When we think about traceability, we might initially think of lot numbers, product codes, customer names and addresses. Some of us may also associate the term with unique device identification (UDI) numbers, and perhaps, implant registries. In other words: the traceability of a device once it has left the manufacturing facility. Indeed, post-market (forwards) traceability is what we are accustomed to thinking about and focusing efforts on safeguarding. In recent years in the European medical device regulatory framework, much emphasis has been given to the importance of forward traceability of medical devices. The New EU Medical Device Regulation 2017/745 (MDR) includes an entire section, solely on the topic of UDI (article 27). The same legislation also includes an entire section (article 10) devoted to specifying the minimum requirements that must be met by the quality management system of the manufacturer of a medical device made in conformance with the new regulations.
Article 10 clause 9 of the MDR explicitly establishes the requirement for all manufacturers, other than those of devices intended for clinical investigation, to establish a quality management system. This catch-all requirement for all manufacturers to establish a QMS is a significantly more stringent requirement than that within the outgoing Medical Devices Directive 93/42/EEC as amended (MDD). Article 10 of the MDR goes on to further explain the fundamental aspects the quality management system must address, including a post-market surveillance system and a mechanism for the verification of unique device identification information that is assigned to the devices that have been produced by the quality management system. The UDI system as outlined by article 27 of the MDR is a revolution for the forward traceability of medical devices. Coupled with the new publicly accessible EUDAMED database, UDI forms a pivotal and fundamental tool within the MDR to enhance transparency and traceability of medical devices under the new regulatory scheme.
Clearly there is greater emphasis on traceability under the MDR. However, there is a risk even with the more explicit requirements for a QMS, and with UDI and EUDAMED as tools for enhanced traceability, that we overlooked and underestimate the importance of traceability within the (pre-market) quality management system, and the compromises in traceability that may arise when appropriate levels of traceability are not maintained within the QMS that is used to control the level and degree to which products conform to defined specifications, before it reaches the end user.
Traceability, holistically, must be about establishing strong linkages between a device, the manufacturer's QMS and QMS processes and the records it produces during the full life cycle of a device, so that, if and when things go wrong, appropriate action can be taken to avoid and limit harm and safeguard patient safety.
So effective traceability requires us to take a step back and look at the quality management system from a bird's eye view, also appreciating the typical life cycle of a medical device. From this perspective we can then begin to establish the linkages between each process. It is from this view that we can start to comprehend how it is that the device is transferred from process to process, from initial idea through to design the manufacturing processes, and through the hands of different individuals until it is finally released and goes out to be used by patients and end users. We can then start to see the elements that are critical to traceability.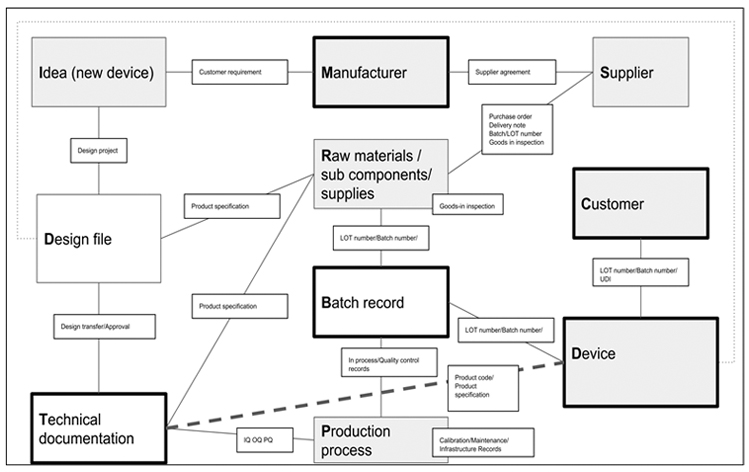 Figure 1 – Traceability within a QMS: A network of uniquely identifiable records (white boxes) such as customer requirements, design projects, product specifications, validation records, batch records/ LOT numbers and delivery notes, amongst other quality records need to be traceable to the device. They provide strong linkages between a device, the manufacturer's QMS and QMS processes across the full life cycle of a device and collectively ensure traceability of the device all the way from end user, back to raw material supplier. Source: Joe Hagan-Brown
Customer requirements, design projects, product specifications, validation records and delivery notes amongst other quality records all need to be traceable to the device. Mechanisms to ensure traceability to such quality records are important but often overlooked aspects of good traceability. Traceability is not a single number, but an organised network of identifiable and traceable records that come together to tell the story of a unique device. This approach is crucial to good quality management.
The direction of travel in our industry is clear. Regulators are implementing new tools and baking them into legislation in order to enhance traceability. Tools have emerged, such as UDI, EUDAMED and other public access databases established and used by regulators, manufacturers, patents and end users around the world, which are all designed to increase transparency, improve compliance and empower the public to be more informed about the products they are using. This is the right approach; it is the right way for the industry to be moving. However, those processes and activities which lie below the surface; within the manufacturer's QMS, which is largely unseen to end users, will continue to play a fundamental role in ensuring medical devices are adequately traceable throughout their entire life cycles.
Biography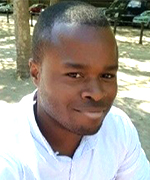 Joe Hagan-Brown
Joe is an SGS medical device lead auditor conducting audits against the requirements of Medical Devices Directive 93/42/EEC, UKCA, MDSAP, and ISO 13485:2016 certification schemes. He also manages a team of auditors. He has worked within the medical devices industry for over 10 years, in various roles.