Formula E achieves ISO 20121 recertification
The ABB FIA Formula E World Championship became the first motorsport series to achieve third-party ISO 20121 certification in 2016. SGS recently presented ISO 20121 recertification to Formula E, reinforcing their commitment to delivering world-class events whilst prioritizing sustainable development through economic prosperity, social inclusivity and environmental protection.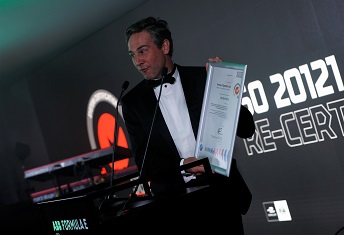 As the only all-electric FIA motorsport World Championship, Formula E creates a unique technological innovation environment for many of the world's leading automotive manufacturers including Jaguar Land Rover, DS, Mahindra, Porsche, Mercedes and Nissan to fast-track developments from racing to commercial use on the road.
Electric cars on the road today go further on every charge due to increases in energy efficiency, enhancements in battery range and advances in powertrain development achieved through technological developments in the first seven seasons of the ABB FIA Formula E World Championship.
The ABB FIA Formula E World Championship will showcase elite sport's role in achieving the Paris Agreement's reduction targets at the COP26 United Nations Climate Change Conference.
Jamie Reigle, Formula E CEO, said: "ISO 20121 recertification is the latest affirmation of Formula E's commitment to leading the global sports industry in making a positive impact on the lives of sports fans today and into the future as we work together to fight climate change.
Motorsport has a crucial role to play in accelerating technological developments that can be transferred to everyday use and serves as a powerful platform to showcase innovative transport solutions to live sustainable lifestyles."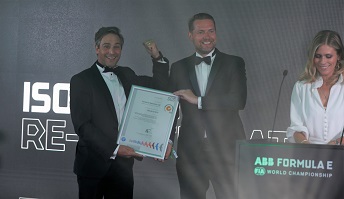 Jan Meemken, Director Certification and Business Enhancement, SGS presents the ISO 20121 recertification certificate to Jamie Reigle, Formula E CEO
Heather Crick, Business Manager at SGS United Kingdom Ltd, said: "Achieving recertification to the ISO 20121 Sustainable Events Management standard demonstrates the hard work and dedication that has gone into putting sustainability at the heart of everything that Formula E does. It highlights the Championship's continued commitment to leading the way in sustainable innovation.
SGS is proud to support Formula E in implementing this internationally recognised standard to help manage their sustainability growth. As a world leading provider of ESG services, SGS understands the importance of independent verification for all organisations in their journey towards net zero."
If you would like to find out more information about the certification, please contact:
Yemisi Olutogun
Business Support
t: +44 (0)1276 697715
ABOUT SGS
We are SGS – the world's leading testing, inspection and certification company. We are recognized as the global benchmark for quality and integrity. Our 93,000 employees operate a network of 2,600 offices and laboratories, working together to enable a better, safer and more interconnected world.
SGS optimizes its own sustainability impacts. We are committed to ethical conduct. We are committed to carbon neutrality and run campaigns with our employees on eco-efficiency. We support equal opportunities and value diversity.
ESG impacts all stakeholders in the corporate and investment sectors, our portfolio of ESG services aims to meet the needs of a variety of organisations, whatever their level of maturity, industry focus or need. SGS ESG Assurance Solutions provide a unique set of competencies that help our clients achieve specific targets and goals.