Beating Brexit: SGS's Customs Brokerage Solution Helps Delamere Dairy Ensure its Imports
"It has been a pleasure to work with Sue and her team at Delamere Dairy. A good relationship has been built across both companies and an understanding of the complexities of exporting and importing food products within the joint team. We are happy to be collaborating with Delamere Dairy in this way, and look forward to developing the relationship still further, to the benefit of businesses in the UK and across the continent." Mark Andrews, SGS's Commercial Manager for eCustoms in the UK.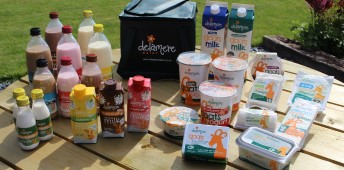 We wanted to know a little more about Delamere's experience with Brexit and working in partnership with SGS. We asked them some key questions and here are the answers in their own words.
CAN YOU EXPLAIN WHAT YOUR BUSINESS DOES?
Sue Yates: So, we are a company that started in Delamere Forest in Cheshire, in the northwest of England, in approximately 1985. Our heritage is very much goat dairy farming, although today we sell a wide range of dairy and dairy alternative products, including long life cow's milk, flavoured milk, sheep cheese and yogurt, goat and cow's milk based pack products and dairy alternatives such as oat, coconut and soya. So, we're on a mission to help make healthy, nutritious speciality dairy products available around the world whilst exports are supporting sustainable ethical farming practices. We're based here in Knutsford, which is about 25 kilometres down the road from where we originally started in Delamere Forest, and we have approximately 28 members of staff that are based here and we manage milk pools and place milk with 20 Co-Packers across the UK and Europe who make products to Delamere specifications.
WHAT IMPACT HAS BREXIT HAD ON YOUR BUSINESS?
I would say that it's impacted our incoming goods from Europe, in that we're now having to give our customers longer lead times to allow for products to come in and then allow for them to clear. So instead of having a seven day turn around, we're on a 14 working day turn around and that is sometimes extended depending on customs clearance. So, I would say it's not a major impact but certainly an above average impact on our product range to our clients and our own stock into warehouses as well.
WHAT WERE YOUR BUSINESS REQUIREMENTS WHEN LOOKING FOR A CUSTOMS BROKERAGE SOLUTION?
When we were looking for someone to help us initially on our importing we were looking for a company that knew what they were doing, that could guide us through the new rules and regulations, advise us on paperwork, advise us how to complete necessary forms and be a backup to help us through the new processes. In that respect we've found SGS have been really good and helpful and we've got a really good account manager that looks after us, who guides us and keeps us up to date on any developments that that are happening in the importing and exporting side of the UK.
WHY DID YOU CHOOSE SGS FOR YOUR CUSTOMS BROKERAGE PARTNER?
Basically, I went out to a number of brokers, if you like, to try and gain knowledge and see if anybody could help us. Out of all the ones I applied to SGS were the quickest to respond, the quickest to help and quickest to give us advice on what we needed to do, and I just found that they were very helpful, very understanding and had an awful lot of knowledge that for me as an importer, who was basically an exporter, put my mind at rest, and gave me the confidence that, I was doing everything correctly.
HOW HAS WORKING WITH SGS BENEFITED YOUR BUSINESS?
It's benefited Delamere by the fact that I don't have to worry about any import coming in and I know that SGS will look at my paperwork, check it over, lodge documents and clear everything, and I haven't got any worries. It's all done for me and we just carry on with the next load and the next load without having to worry that things are going to be wrong or things are not done correctly.
If you would like a PDF version of the article follow the link below.
For more information on working with SGS contact:
Mark Andrews
Commercial Manager
Trade Facilitation Services
Connectivity & Products (C&P)
t: +44 (0)1749 345 007
ddi: +44 (0)1749 340 246
m: +44 (0)7815 648499
w: www.sgs.com/ecustoms
About SGS
We are SGS – the world's leading testing, inspection and certification company. We are recognized as the global benchmark for quality and integrity. Our 93,000 employees operate a network of 2,600 offices and laboratories, working together to enable a better, safer and more interconnected world.