Leading Insulation Company Gains ISO Certification for Installation Training
Siderise is a leading British manufacturer and supplier of fire, and acoustic insulation solutions for home and overseas markets. Since the company's formation over 45 years ago, it has earned a reputation for high quality products and technical support in the construction, building services, OEM and a range of other sectors, not only in the UK but around the world.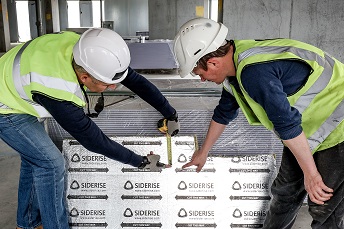 In addition to supplying class-leading solutions, Siderise has always embraced the importance of supporting customers and specifiers with technical expertise to ensure that the correct products are specified for the application, and of correct installation in order to ensure full effectiveness.
WHY SIDERISE SOUGHT CERTIFICATION
Siderise has long provided educational materials and training services for contactors and product specifiers to understand how their products perform and how to work with them appropriately. Recent building regulation changes as well as the ongoing and critical importance of competent product selection and installation led to Siderise's formal certification to ISO 29993:2017 for their installation and product application training, the global standard which specifies requirements for learning services outside formal education.
Chris Hall, External Affairs Director, explains "Siderise places product performance at the heart of its customer support. It's the combination of our tested products and the competent workmanship of our customer contractors which delivers the crucial and effective safety solutions our products are engineered for. We have evolved our training provision over the last 10 years from informal training through our sales engineers to our current set up of a dedicated Site Services Team and support infrastructure. Formalizing our training process via this certification through SGS United Kingdom Ltd provides the robust and independent recognition that means we can review, assess, and improve our provision in a structured and managed way". Hall points out that "while many products on the market are well made for their purpose, and are third party tested and certified, incorrectly fitting them into buildings as a results of skill gaps could seriously compromise their performance".
The Siderise team wanted to find a way to benchmark their installer education and training programme against a recognized standard, and to demonstrate to existing and new customers that it was fit for purpose and support project audit trails.
It was important that such a standard be recognized globally, owing to Siderise's increasing sales in export markets.
WHY SGS?
Having carried out some research himself, Chris Hall turned to SGS, part of the world's leading inspection, verification, testing and certification company for help. SGS quickly identified ISO 29993:2017 as the correct standard.
IMPLEMENTING ISO 29993:2017: THE PROCESS
The initial work by Chris Hall's team was an internal audit against the ISO standard and adjusting the existing process against it.
It was apparent that despite the quality of the existing training and materials, there were gaps between it as a process for delivery and the demands of the standard. He recalls: "Our pre-training process was identified as sub-optimal in that we were assuming a certain level of competency within the workforce we were training. The ISO standard makes it clear that this needs to be carefully determined. The other important gap was in our post-training evaluation, which is vital to gauge effectiveness."
The first, preparatory audit, highlighted gaps via a traffic light system. In preparation for the main audit, Hall researched best practice from around the construction and other sectors, tailoring it to suit the ISO standard.
He recalls that the final audit itself was a very positive experience, with the year's careful preparation well worth the certification, which was granted in September 2020. SGS auditor Mike McDonald was thorough and supportive throughout the process, having become very familiar with Siderise's business, says Hall.
HOW THE CERTIFICATION HAS BENEFITTED THE BUSINESS
The projects which Siderise supplies are predominantly multi-storey structures over 18 metres high, which are currently under significant scrutiny.
The company's certification of its training to ISO 29993:2017 has been warmly welcomed by architects and specifiers, who appreciate the reassurance provided by a structured installation training offer. The same goes for both customers and installers, bringing additional peace of mind and a useful tool to help meet both regulatory and contractual obligations. It also supports many customers' corporate social responsibility strategies.
The standard also requires Siderise to determine and record the level of both assimilated and retained knowledge – even if the questions have been answered correctly during the course. This has resulted in a post-installation audit service to be incorporated in the training process.
Chris Hall says: "Fortunately, the scope of the standard covers both on-site and remote training, so during the COVID-19 pandemic we have been able to deliver it very effectively within the ISO specifications."
Siderise makes no charge for the training, but it more than pays dividends when it comes to winning tenders and maintaining an excellent reputation amongst architects, specifiers and customers.
ABOUT SGS
SGS is the world's leading inspection, verification, testing and certification company. SGS is recognized as the global benchmark for quality and integrity. With more than 89,000 employees, SGS operates a network of over 2,600 offices and laboratories around the world. We are constantly looking beyond customers' and society's expectations in order to deliver market leading services wherever they are needed. Working together to make the world a better, safer place.