Microfiber Release Analysis
Microfiber is commonly found on textile products and microfiber pollution has become a leading news story in recent years.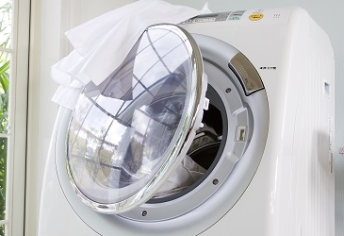 From the ocean floor to tap water, microfibers have been observed all over the world. Consumers and regulators are now pushing for reductions in microfiber pollution to protect the environment.
Textile products are identified as one of the principle sources of this pollution. Every time a garment is laundered it will release microfibers into the water system, which eventually end up in the environment.
The textile industry and consumers are both looking for ways to reduce microfiber release. Industry is working towards a harmonized testing method for evaluating clothing, while consumers are making simple changes, such as adopting different laundering behavior. By washing garments less often or using milder washing conditions, the quantity of microfibers released into the environment can be gradually reduced.
Products are also available on the market that claim to capture microfibers when they are released during laundering. These washing bags, however, often make claims that lack the support of empirical testing data.
SGS SOLUTION
SGS has developed a test method to evaluate the efficiency of washing bags claiming to reduce microfiber pollution into the environment. Performance is ascertained by evaluating the reduction in microfiber release when the washing bag is used during laundering. Efficiency is demonstrated by percentage reduction and the reported results can be used to support claims being made for the product.
SGS has participated in microfiber testing research since 2016. In 2017, we launched a microfiber release analysis solution for garments. To compliment this, an analysis methodology for small scale microfiber release was launched in 2020.
SGS is your trusted testing partner, helping you overcome the challenges being faced in the textile industry.
UK Softlines
SGS offers a wide range of services to the softlines and accessories industries at every stage of the value chain. We help to ensure the quality, safety and sustainability of these products, and their mode of distribution to satisfy regulatory requirements as well as the demands of the market.
For more information please contact:
SGS United Kingdom Ltd
Whittle Estate
Cambridge Road
Whetstone,
Leicestershire
LE8 6LH
United Kingdom
t:
+44 (0)116 284 6780
About SGS
SGS is the world's leading inspection, verification, testing and certification company. SGS is recognised as the global benchmark for quality and integrity. With more than 89,000 employees, SGS operates a network of over 2,600 offices and laboratories around the world.