SGS Saves the Day
UK Medical Devices Operations Manager, Roger Vokins, receives a plaque in his honour with new client Arc Microtech Limited.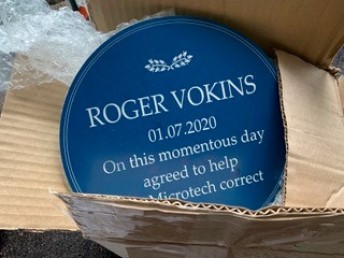 When ARC Microtech Limited was let down by their previous Notified Body, Roger Vokins, UK Medical Devices Operations Manager, stepped in to offer his assistance on behalf of SGS United Kingdom Ltd. Shortly before the demise of his previous certification company, Peter Clayton, CEO of ARC Microtech Limited, had wanted a review to change the scope of their product. Peter's product should have been classified as pain management with tissue repair. The certification company had omitted the tissue repair classification, which was the basis for their advertising campaign. With just 48 hours before the campaign was due to launch on the radio, Roger was able to step in and save the day.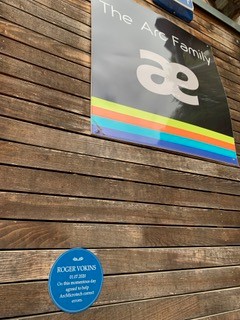 Roger managed to transfer the certification as well as change the scope of Peter's product. Peter had joked that if Roger could pull this off, then he would put up a plaque in his honour to remember Roger for all his help. Roger comments "it was all very tongue-in-cheek, and when everything was completed, I emailed him and said I want to see this plaque. Little did I know they had actually gone and organized it!".
The plaque now sits firmly outside the office as a permanent reminder of Roger's hard work and dedication to helping a new client.
Medical Device Services
No matter the size of your organization, SGS's medical device testing, certification, audit and training services can help you navigate the complexities of international medical device regulations to bring your products to market while ensuring compliance with the required regulations and standards and providing a high level of safety to patients and healthcare professionals.
For more information contact:
Yemisi Olutogun
Business Support
t: +44 (0)1276 697 715
About SGS
SGS is the world's leading inspection, verification, testing and certification company. SGS is recognised as the global benchmark for quality and integrity. With more than 89,000 employees, SGS operates a network of over 2,600 offices and laboratories around the world.