Coperama and SGS Partnership Helps Ensure Safe Business Recovery for Hotels
Coperama and SGS have joined efforts to implement enhanced safety standards and disinfection protocols to allow hotel establishments to reopen safely.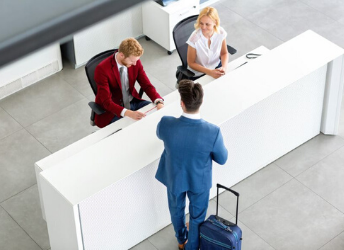 Coperama, the first procurement platform for the hospitality sector, and SGS, the world's leading inspection, verification, testing and certification company, are pleased to announce their collaboration on a major hygiene monitoring program. The program will check cleaning processes and disinfection efficiency for the majority of partner hotels around the world. The goal is to carry out risk assessments based on enhanced hygiene measures to ensure maximum safety as the hospitality sector returns to business.
As the COVID-19 quarantine gradually de-escalates, it is expected that most hotels will re-open. As a result, it is more important than ever for each company to ensure the health and safety of their workers, guests and customers.
Ramón Luengo, CEO from Coperama, said: "SGS's global leadership in the travel and hospitality sector has enabled our network of health and safety experts to develop a comprehensive and simple protocol to check the disinfection status of hotels and their management procedures. SGS will ensure that maximum hygiene standards are met, to protect guests and hotels employees."
Peter Possemiers, Executive Vice President of SGS Environment, Health and Safety, added: "Our unrivaled network of local auditors and inspectors in more than 100 countries, 24/7 response service, and environmental and health and safety background will enable us to implement these processes for our global and local customers, rapidly and consistently worldwide. SGS executed over 10,000 hotel audits last year and will tap into this strong expertise and footprint."
For more information on this partnership and other SGS COVID-19 related services, please contact us >
About Coperama
Coperama is a purchasing hub dedicated to the hospitality sector and related industries in the 3* to 5* segment. Founded in 2010 by NH Hotel Group and with a catalog with more than 30,000 products and services of +900 providers. we currently have a central support office and 7 business units in Spain, Benelux, Italy, Portugal, Germany, Colombia and Mexico.
For more information, please visit www.coperama.com
About SGS
SGS is the world's leading inspection, verification, testing and certification company. SGS is recognized as the global benchmark for quality and integrity. With more than 94,000 employees, SGS operates a network of over 2,600 offices and laboratories around the world.