Outdoor Textiles Testing - Tents, Awnings, Gazebos and Outdoor Covers
Those outdoor structures containing textile materials suffer from the weather more than you might realize.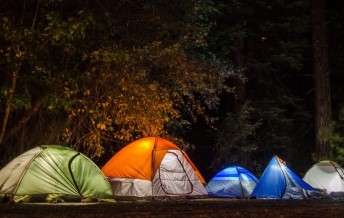 These could be tents, marquees, gazebos (particularly their curtains), shop blinds, market stall covers, patio parasols, garden furniture (with a textile covering), and all manner of protective covers from cars to barbeques and other garden equipment.
Colours fade in light but even more so when exposed to light when they're wet, fabrics shrink, some materials go mouldy and rot away and proofing treatments may be reduced by repeated wetting from the rain leeching away the protective chemicals and by microbiological activity.
Keeping the Customer Satisfied
In order that your products do not disappoint your customers by failing prematurely, testing the relevant properties can predict effective life span, or at least provide assurance that the product will give the expected service and keep your customer happy.
Testing and Inspection
SGS provide several tests at our laboratory in Leicester which include:
Colour fastness to light and weathering
Water penetration resistance (before and after cold water soak)
Dimensional stability to cold water soaking
Flammability (before and after cold water soak)
Seam strength
Rot resistance and strength loss after exposure to microbiological activity
Safety labelling (tents and similar structures)
Safety features (tents and similar structures)
When you need to be sure about your product contact SGS and we can develop a test regime for your product's legal compliance as well as your customer's satisfaction.
For further information and to book your inspection please contact:
SGS United Kingdom Limited
Whittle Estate
Cambridge Road
Whetstone
Leicestershire
LE8 6LH
United Kingdom
t: +44 (0)116 284 6780
About SGS
SGS is the world's leading inspection, verification, testing and certification company. SGS is recognized as the global benchmark for quality and integrity. With more than 94,000 employees, SGS operates a network of over 2,600 offices and laboratories around the world.