Safety Footwear Explained
Health and Safety regulations and the Personal Protective Equipment (PPE) Regulations require employers to provide suitable safety equipment to their staff free of charge where risk assessment dictates that it is appropriate. This includes footwear in those areas where it is needed.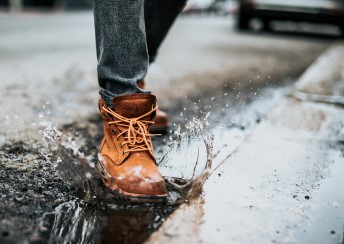 Regardless of what other preventative measures are taken within the workplace, injury to your feet can be debilitating and no one wants to live with an injury that could have been prevented!
It's obvious
Safety footwear can help protect your feet against falling objects, penetrations, chemical spills, temperature extremes, and crush injuries. It can also prevent slips and falls which can lead to more serious problems such as broken bones and head injuries.
Many factories will insist that staff members wear protective footwear when on the factory floor to reduce injury from dropped or falling items as well as any sharp objects that could be trodden on.
Safety shoes can protect the feet against burns and ongoing heat damage which can cause swelling and poor foot health due to excess sweating. Certain types of boot are designed to protect against burns caused by harmful chemicals.
If the products used or stored in the workplace are of a hazardous nature such as chemicals, specialist safety boots can protect against skin damage and burns caused by spillages. Spillages can also mean a greater risk of slips and falls - protective work boots can help prevent this happening.
If you work with heavy cutting machinery and tools such as chainsaws, specific safety footwear can help protect your feet if something should go wrong.
Safety boots can offer much needed protection against falling or rolling objects, cuts and punctures from debris as well as protection and grip when operating machinery.
What's not obvious
For example - it may not be obvious why chefs should wear safety shoes but slips and trips are a particular problem in catering so suitable footwear can go a long way towards helping to prevent injury.
Selecting the right safety shoes for the job is very important too as not all are slip resistant. For example a rubber sole offers more resistance than polyurethane soles would, particularly on a tiled floor which are found in most kitchens.
Spillages of hot food or boiling water can also cause burns and safety footwear can also help protect against this.
A chef spends most of their working day on their feet so it's really important that the shoes worn are suitably supportive. Most safety shoes have structured insoles to assist and support the feet on a day to day basis.
The reasons for wearing protective footwear can be summarized as below:
Hazards
Wet, hot and cold conditions
Electrostatic build-up
Slipping
Cuts and punctures
Falling objects
Heavy loads
Metal and chemical splashes
Vehicles
Note
Footwear can have a variety of sole patterns and materials to help prevent slips in different conditions, including oil - or chemical-resistant soles. It can also be anti-static, electrically conductive or thermally insulating.
Appropriate footwear should be selected to cover the risks identified and appropriate testing may include:
Slip resistance
Water resistance
Footwear durability
Toe cap impact
Abrasion resistance
Flex cracking resistance
Sole bond adhesion
Heel attachment
Seam strength
Strap strength
Water vapour permeability and absorption
Colour fastness
Durability
Materials suitability
Biomechanical evaluation
Hazardous/ restricted substances (chrome VI, azo dyes, pentachlorophenol (PCP), formaldehyde)
EN 71 (can be applied to children's footwear where no other legislation covers safety aspects)
Wear trials
Contrived ageing
Extreme conditions
What is and isn't PPE?
Footwear designed simply for comfort or to absorb shock from walking or running is not PPE
Footwear designed to protect against superficial mechanical injury is Category I PPE
Footwear designed for sports use and sports shoes – Category I PPE
Motorcycle boots designed to protect against rain and cold is Category I PPE
Motorcycle boots designed to protect against cuts and abrasion is Category II PPE
Footwear designed to provide anti-slip protection e.g. snow and ice-spikes is Category II PPE
Footwear to protect against electric shock at work involving dangerous voltages, or used to provide insulation against high voltages is Category III PPE
Footwear for use in high-temperature of 100 ̊C or more and which may or may not be characterized by the presence of infra-red radiation, flames, hot splashes or the projection of large amounts of molten materials is Category III PPE
Footwear for use in low-temperature environments of -50 ̊C or less is Category III PPE
SGS offers testing of footwear against a range of international, European, American, Canadian and Australian standards.
The main European testing standards are:
EN ISO 20344
EN 13832
EN ISO 20345
EN 50321-1
EN ISO 20346
EN 381-3
EN ISO 20347
EN 15090
For information about how to arrange testing, please contact the SGS Bradford Office:
SGS United Kingdom Limited
Units 41 & 43, The Listerhills Park of Science and Commerce,
Campus Road, Bradford BD7 1HR
United Kingdom
t: +44 (0)1274 303080
For information on certification contact the SGS Weston-super-Mare office:
SGS United Kingdom Limited
Unit 202B
Worle Parkway
Weston-super-Mare
BS22 6WA
t: +44 (0)1934 522917 option 4
About SGS
SGS is the world's leading inspection, verification, testing and certification company. SGS is recognized as the global benchmark for quality and integrity. With more than 94,000 employees, SGS operates a network of over 2,600 offices and laboratories around the world.