Energy Efficiency: The Importance of Managerial Buy-In
As we head into 2020, energy efficiency has never been more of a priority for many organizations. No longer is corporate energy strategy about just getting the cheapest tariff for electricity. It is about becoming "energy smart", a goal that is inspiring businesses to reconfigure their teams, offices and operations.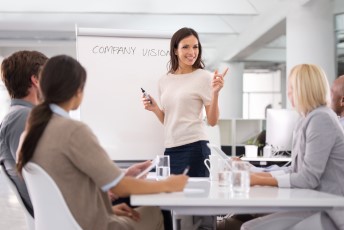 To be successful in any change programme it is essential to have the support of senior management. The business case for energy efficiency should not be that hard to make, however middle management often struggle to gain senior management buy-in.
Issue selling is not a discrete event; it is an ongoing process that requires groundwork, pacing and patience. When mid-level managers do it effectively, their ideas get decision makers' attention and make a real difference.
Prior to seeking the approval of the senior management team and getting them on board it is essential to define the what, why and how of the energy efficiency programme. Consider some initial questions, for example: what you want to achieve with the programme? how would it align with the companies' vision and values? what energy behaviours will the programme target? what would the costs be? how will the impact be measured? and so on.
If it is now clear that the initiative will save the company money, reduce the impact on the environment, and aligns with the company strategy, the leadership team is more likely to support it.
With the demands of net-zero carbon being tabled at board level discussions, ISO 50001 certification and ESOS is used as the route to achievement. It will enable you to prove that your business is managing energy use effectively; that you are reducing your greenhouse gas emissions; and you are working to meet environmental targets. Proof of compliance with ISO 50001 will demonstrate that you are a responsible business.
For more information, please contact:
Rachel Forster
Business Support
t: +44 (0)1276 697715
About SGS
SGS is the world's leading inspection, verification, testing and certification company. SGS is recognized as the global benchmark for quality and integrity. With more than 94,000 employees, SGS operates a network of over 2,600 offices and laboratories around the world.