SGS Supports Victims of Australia's Bushfires
Months of severe drought and record-breaking temperatures in Australia have fueled massive bushfires that have devastated the continent's native habitat, animals and people. At least 6.3 million hectares of bush, forest and park have been burned.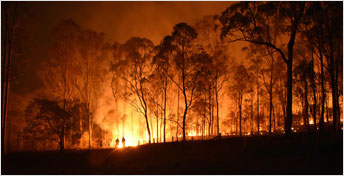 In the midst of this disaster, many of our employees at SGS in Australia have demonstrated their dedication to providing relief for the victims. Some have volunteered to assist with firefighting, and some are helping their local communities, working under incredibly hard conditions.
Employees in Notting Hill, Malaga and Newcastle rallied to raise funds for families and wildlife affected by the bushfires. By matching employee donations dollar for dollar, SGS was able to raise AUD 2235.
Can You Help?
Please donate to any of the following organizations:
Australian Red Cross >
Salvation Army Australia >
WIRES Wildlife Rescue >
Wildlife Victoria >
Your donation will make a difference.
ABOUT SGS
SGS is the world's leading inspection, verification, testing and certification company. SGS is recognized as the global benchmark for quality and integrity. With more than 94,000 employees, SGS operates a network of over 2,600 offices and laboratories around the world.