Eye Protection (Spectacles, Goggles and Faceshields)
Thousands of accidents involving eyes occur at work every single year. Although some of these incidents are minor and short-term, others (around 10-20%) result in partial or full blindness.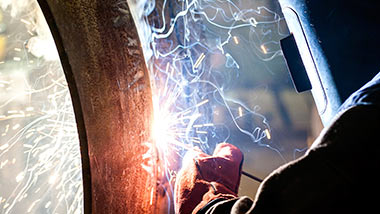 With serious damage to lifestyle and health at risk, employers are expected to provide their employees with suitable personal protective equipment (PPE) to reduce the risk of injury.
In accordance with Regulation (EU) 2016/425, all PPE must be tested and marked to prove that it can meet the relevant protective standards.
The function of eye-protectors is to provide protection to the wearer against:
Impacts of different severities
Optical radiations
Molten metals and hot solids
Droplets and splashes
Dust
Gases
Short circuit electric arc
Or any combination of the above
Protective eyewear is tested to meet a specific set of standards and is marked according to its protective ability. Although there are many standards for safety eyewear dependent on its purpose, all eyewear intended for use in the workplace must meet a core European standard: EN 166:2001.
Generally, the simpler eye protection worn in the workplace, laboratories etc, is tested against EN166 and is classified as Category II, e.g. the plastic goggles, glasses worn in labs and simple protective glasses used in factories.
However, there can be additions or variations to the level of protection and depending on the level of protection – they can be Categories I or III.
Examples
Sunglasses are Category I (simple design) but if they offer protection against artificial ultraviolet radiation, they are Category II
Protective glasses/goggles with X-ray protection would be Category III and require additional standards and testing so EN166 would only be a part of the program. The X-ray standard would then be the primary standard
Categories of Protective Eyewear
Category I
Swimming and/or diving goggles and masks
Eye protectors and filters designed and manufactured exclusively to provide protection against sunlight, sunglasses (not corrective) for private and professional use. This includes cases where glasses are tinted after manufacturing or any other assembly after manufacturing (e.g. assembly of sunlight protective lenses in a non-CE marked frame)
Ski goggles of all types, except corrective spectacles
Corrective spectacles (Class I Medical Device) which claim to protect against sunlight
Category II
All eye protectors and filters, including eye protectors against artificial UV radiation (e.g. in sunbeds) and protective glasses for phototherapy on babies
Category III
Eye protectors and filters designed and manufactured for use in high-temperature environments, the effects of which are comparable to those of an air temperature of 100°C or more and which may or may not be characterized by the presence of infra-red radiation, flames, hot splashes or the projection of large amounts of molten materials
Eye protectors and filters designed and manufactured to provide protection against ionizing radiation
Eye protectors and filters designed and manufactured to provide protection against electric shock
Corrective spectacles
Corrective spectacles are covered under the Medical Devices Directive not by the PPE Regulation unless they provide protection against one or more of the risks noted at the beginning of this article
Corrective spectacle lenses that also protect the wearer against sunlight should show compliance with the essential requirements of both Medical Devices and PPE legislation. A product which protects against sunlight is Category I in PPE terms and corrective lenses are Class I Medical Devices.
Where corrective spectacles provide protection other than protection against sunlight (e.g. against impact, abrasive projections, etc.), they are classified as PPE of the category corresponding to the risk in question solely in respect of their protective features. This depends on the level of protection claimed
What is not PPE
Visors incorporated into helmets designed and manufactured for use with two- or three-wheeled motor vehicles
SGS United Kingdom Ltd offer testing of eye and face protectors against a wide range of international and European standards.
The following is not exhaustive but indicates some of our capabilities:
Occupational eye protection
EN 166, Industrial
EN 175, Welding
EN 1731, Mesh
EN 14458, Firefighters & emergency services
Filters for occupational eye protection
EN 169, Welding
EN 170, Ultra-violet
EN 171, Infra-red
EN 172, Sunglare
Sunglasses
EN 1836, General
ISO 12312-1, Sunglasses for general use
Sports eye protection
EN 174, Goggles for downhill skiing
EN 13178, Snowmobile
Ophthalmic
EN 14139, Ready-to-wear
ISO 8980, Lenses
For information about how to arrange testing, please contact our Bradford office:
SGS United Kingdom Limited
Units 41 & 43, The Listerhills Park of Science and Commerce,
Campus Road, Bradford BD7 1HR
United Kingdom
t: +44 (0)1274 303080
f: +44 (0)1274 303098
For information on certification contact our Weston-super-Mare office:
SGS United Kingdom Limited
Unit 202B
Worle Parkway
Weston-super-Mare
BS22 6WA
t: +44 (0)1934 522917 Option 4
f: +44 (0)1934 522137
About SGS
SGS is the world's leading inspection, verification, testing and certification company. SGS is recognized as the global benchmark for quality and integrity. With more than 94,000 employees, SGS operates a network of over 2,600 offices and laboratories around the world.