ASUS Ranked as a World-Class High-Tech Green Leader
ASUS awarded the world's first ISO 20400 procurement management performance evaluation certificate from SGS.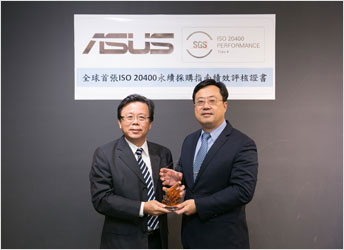 For the sixth consecutive year, ASUS, one of Taiwan's top-20 brands, has won the SGS Global Award along with the first ISO 20400:2017 Performance Evaluation Certificate for sustainable procurement management.
The certificate and award were presented at the 2019 Sustainable Supply Chain Conference held in the International Conference Hall of the National Taiwan University Conference Centre on December 6, 2019.
A New Industry Benchmark
The first ISO 20400:2017 performance evaluation certificate for sustainable procurement management has become a new industry benchmark. The ISO 20400 Sustainable Purchasing Guide is a procurement guideline applicable to all internal and external procurement process stakeholders.
To help organizations reduce the impact on the environment through sustainable procurement, the ISO 20400 Guidance on Sustainable Purchasing can be used along with the ISO 26000 Guidance on Social Responsibility. These help organizations address issues such as human rights, labor practices, fair operations, managing relationships with suppliers, improving costs and enhancing purchasing performance.
2020 Sustainability Goals
ASUS's 2020 sustainability goals are based are based on four major aspects – green products, supply chain management, sustainable operations and social participation. The method describes the specific actions to be launched and tracks the annual practice results with quantitative indicators to meet its commitment to the public.
The SGS professional audit team evaluated the organization's performance, awarding ASUS the ISO 20400 sustainable procurement guide performance evaluation certificate. In the evaluation, ASUS obtained the maximum rating of 4 stars by meeting public expectations in advance and establishing a sustainable green supply chain.
SGS General Manager, Steven Chiou, said: "ASUS has passed the performance evaluation, which means that it meets the requirements of the sustainable procurement guidelines in both strategy and execution. Procurement practices take into consideration the risks, opportunities and opportunities arising from environmental, social, and economic aspects in the sustainable procurement process.
"It also measures progress towards sustainable management goals, such as business governance, environmental protection, labor rights, and safety and health. Through these sustainable benchmarks, organizations can carry out sustainable business transformation, create corporate competitiveness, and use the power of commerce to create a world where society and the environment can develop sustainably."
For more information, contact:
Rachel Forster
Business Support
t: +44 (0)1276 697715
About SGS
SGS is the world's leading inspection, verification, testing and certification company. SGS is recognized as the global benchmark for quality and integrity. With more than 94,000 employees, SGS operates a network of over 2,600 offices and laboratories around the world.