SGS Takes to the Road
A UK county council and longstanding SGS client has achieved certification to a wide range of ISO standards and these proved invaluable when it embarked on a pioneering scheme that uses single-use plastics for road building.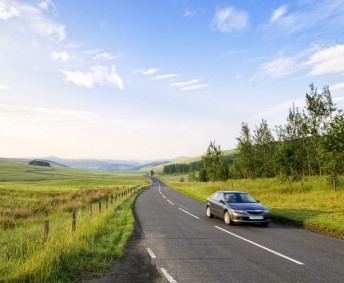 Standard bearer
Having strived to maintain best practice processes and procedures to help it carry out its activities, this customer recognizes the benefits of ISO standards. The organization began working closely with SGS in 1999 and during the intervening 20-year period it has achieved relevant certifications across a variety of its operational areas including ISO 14001 for its environmental management system, ISO 9001 for quality management, ISO 44001 for collaborative business relationships, ISO 55001 for asset management and ISO 45001 for occupational health and safety. As a forward thinking organization, it works with SGS to drive a culture of continual improvement and configure new and smarter ways of operating.
Head out on the highway
With an administrative area of 862 square miles, this County Council has a highway network of 3,773km, all of which needs regular maintenance. Its ISO certifications assist in the process in a number of key ways. For instance, the scope of its ISO 14001 and ISO 9001 certifications cover the administration and civil engineering works for highways, structures, countryside works, street lighting and strategic highway activities, in addition to highway and building construction and maintenance, and related design project management. Furthermore, ISO 9001 addresses the requirements of National Highway Sector Scheme 10B for the design, supply, installation, repair and/or inspection of permanent vehicle restraint systems incorporating non-propriety safety barrier systems, tensioned and un-tensioned corrugated barriers and open box beams.
More with less
Having identified that its maintenance backlog is set to increase over time, as current funding levels are not sufficient to maintain the highway in a steady state condition, the County Council needed to identify new ways of sustaining highway maintenance with lower funding.
As the UK's waste management authorities are having to find new and alternative outlets for sorting and disposing of plastic waste, a process was developed for incorporating waste packaging and insulation into asphalt. This offered the prospect of helping the council to reduce its bitumen costs in road resurfacing and provided an outlet for single-use plastics that otherwise would have been landfilled or incinerated.
The process allows waste plastics from a variety of sources including single-use plastics, plastic bags and insulation materials to be engineered and blended to provide an additive to asphalt – replacing and reducing the amount of fossil fuel bitumen required. The product also works with existing asphalt production equipment and installation processes, avoiding the need for new capital investment.
Road test
The Council initiated a trial project on a 12,744m2 stretch of road and 6.5 tonnes of plastic – equivalent to 60,000 plastic shopping bags – was used. It found the road surfacing to be of the same standard as would be expected from traditional methods – in fact it is believed that the road surface will last longer and result in fewer potholes and defects. Just as importantly, reducing the amount of bitumen has enabled the council to lower the carbon footprint of road resurfacing by a tonne of CO2 for every tonne of bitumen. This has helped to reduce the environmental impact of highway maintenance, as well as offering a sustainable solution to plastic re-use and recycling.
The journey ahead
By utilising this innovative idea, this Council is not only managing its highway infrastructure, but tackling the increasing financial challenge of waste management at the same time. As a result of its culture of continual improvement, dedication to ISO standards and partnership with SGS, it is leading the way in the adoption of environmentally friendly road surfacing technologies.
For more information, please contact:
Rachel Forster
Business Support
t: +44 (0)1276 697715
About SGS
SGS is the world's leading inspection, verification, testing and certification company. SGS is recognized as the global benchmark for quality and integrity. With more than 94,000 employees, SGS operates a network of over 2,600 offices and laboratories around the world.