Jason Taylor - Fellow of the American Society of Non-Destructive Testing
Mr Jason Taylor - Non-Destructive Testing (NDT) Manager for SGS United Kingdom Limited has been awarded the prestigious honor of "Fellow of The American Society of Non-Destructive Testing". The ceremony took place in Las Vegas in November 2019.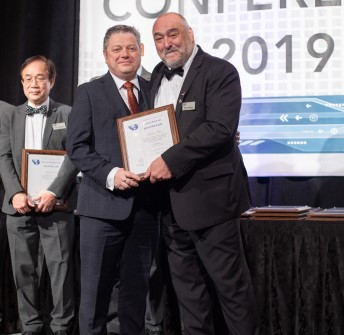 This is in recognition of his professional standing in the NDT community, not only as an Industry Expert with multiple level III's in both the ASNT and ISO 9712 schemes, but also covering all the core NDT Disciplines. In addition, his extensive knowledge of the industries applications has been recognized as well as the mentoring, outreach and support of technicians.
Jason is an active member of both ASNT and The British Institute of NDT of which he is currently the Vice President. Jason said on receiving this award "It's hard to understate the honor I feel from receiving this recognition from the NDT industry professionals, to be chosen as only one of five from the over 15,000 members to receive this in 2019, is quite astounding".
Congratulations to Jason on this significant recognition of professionalism.
Edward Bradley
Business Manager