SGS Commits to Sustainability with over 18,500 Hours of Volunteer Work
In 2018, 5,592 SGS employees across the globe took part in 18,544 hours of volunteer work, as part of the company's and employees' ongoing commitment to creating value for local communities and the planet.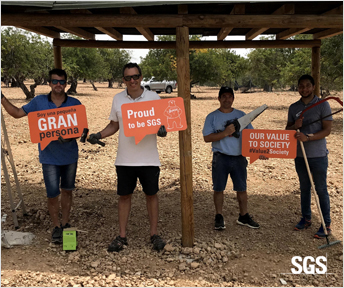 One of SGS's core business principles is "Sustainability" and a commitment to add long-term value to society. The company's sustainability strategy is built around four pillars: professional excellence, people, environment and community. Volunteering is part of the community pillar and provides an effective way for SGS to add value in the communities in which it operates.
As part of its 2020 sustainability ambitions, SGS aims to increase its investment in communities around the world by 30% against a 2014 baseline, with a focus on volunteering. In addition to creating value for the communities where its employees volunteer, these activities also create value for SGS employees, including:
Physical and emotional benefits
Professional satisfaction
The opportunity to put skills to use outside the work environment
Improved relationships with peers
Improved networking skills
All SGS employees are entitled to one day of paid leave each year to focus on voluntary work. Staff have been actively involved in a wide range of projects aligned with the Sustainable Development Goals, including promoting access to food and health, environmental sustainability and education.
For further information, please contact:
Paula Ordoñez
Global Head of Corporate Sustainability
t: +34 91 313 80 00
About SGS
SGS is the world's leading inspection, verification, testing and certification company. SGS is recognized as the global benchmark for quality and integrity. With more than 97,000 employees, SGS operates a network of over 2,600 offices and laboratories around the world.