World Accreditation Day 2019: Adding Value to Supply Chains
On 9 June 2019, SGS celebrates World Accreditation Day, a joint initiative of the International Accreditation Forum (IAF) and the International Laboratory Accreditation Cooperation (ILAC), which aims to raise awareness of the need for universally recognized standards in the commercial, government and non-profit sectors.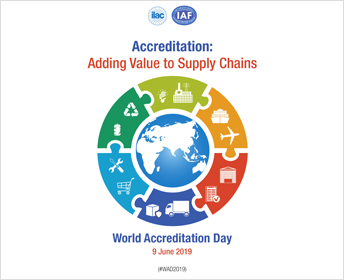 This year, the theme of World Accreditation Day is 'Adding Value to Supply Chains'. Today, as businesses seek cost-effective procurement, product supply chains have become more globalized and complex than ever before. As supply chains span multiple countries and sites, organizations are faced with significant challenges regarding quality, traceability, safety, regulatory compliance, and environmental and social responsibility.
In addition, any disruption in the supply chain can affect profitability, brand reputation and customer loyalty. As a result, businesses need to reduce risk or disruption from data security breaches, system failures or quality issues, ensuring effective selection of sustainable suppliers taking into account financial stability and Corporate Social Responsibility (CSR) performance.
The role of accreditation in today's supply chains
Accreditation is an effective way of determining the technical competence, integrity and impartiality of organizations. Conformity assessment services, such as testing, calibration, certification and inspection, offers independent evaluation against recognized standards to ensure impartiality, competence and consistency.
Accreditation adds value to supply chains by enabling businesses to satisfy contractual terms, and gain the confidence that suppliers are stable, ethical and that their products meet technical and safety specifications.
In addition, accreditation enables businesses to integrate into global supply chains, demonstrating product quality through a common language of standards that establishes trust between business partners.
Neil Willings, Global Manager for Supply Chain Risk Management Solutions at SGS, said: "As the global commercial landscape continues to become more and more complex, the value of having secure and compliant supply chains has become more evident. We can help companies create customized methodologies for identifying the risks imported by their supply chain, and then use accredited standards as a means for suppliers to demonstrate that they are managing the risks effectively. At SGS, we provide a variety of services aimed at improving efficiency and stakeholder trust across your supply chain, including quality, sustainability, environmental, security and much more."
How SGS can add value to your supply chain
As the world's leading inspection, verification, testing and certification company, SGS offers a range of services to help you effectively manage the potential risks in your supply chain through certification, assessments, inspection and supply chain mapping. Using our enhanced technology solutions, we help enterprise clients to improve supplier information and ensure they have management systems in place to mitigate risks. Our worldwide coverage and global networks across a range of industries guarantees that you have access to the latest information and techniques relevant to your industry sector.
Find out more
For more information on World Accreditation Day 2019, please visit the ILAC website.
For more information, download our infographic or please contact:
Anna Amato
Sr. Global Marketing Manager
Certification and Business Enhancement
t: +201 448 0377
About SGS
SGS is the world's leading inspection, verification, testing and certification company. SGS is recognized as the global benchmark for quality and integrity. With more than 97,000 employees, SGS operates a network of over 2,600 offices and laboratories around the world.