New Case Study: Sole Proprietor Achieves ISO 9001:2015 Certification
SLAC Precision Engineering, a Basingstoke, Hampshire engineering business, has achieved a notable feat by gaining ISO 9001:2015 accreditation with only one employee, and just nine months after being established.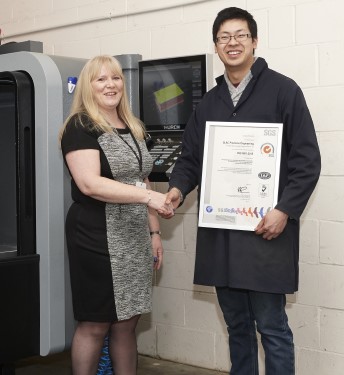 In his previous job – also with an engineering business – founder and Managing Director Alun Cheung had worked as Quality Manager, including for parts produced for the demanding aerospace sector. This immersed him in a quality culture as well as working directly with both the directors of the business and the millers and turners on the shop floor – essential in familiarization with procedures and processes.
Alun set the business up in February 2018 in an industrial unit located within easy reach of the M3 and mainline railway, with ample space for the company's production, inspection and storage activities, and for future growth. The facility is equipped with high precision, digitally controlled machining equipment that enables the production of components to high tolerances.
SLAC Precision Engineering achieved certification to ISO 9001:2015 in January 2019, with the audit carried out by SGS.
WHY SLAC PRECISION ENGINEERING SOUGHT CERTIFICATION
As an experienced quality manager, Alun Cheung knew that having ISO 9001:2015 certification was crucial to winning business. Companies in the sectors the company works for take it as a given that their suppliers meet the standard, which covers all aspects of operations from leadership to post-delivery service, including how reject parts should be handled. It also provides an assurance of traceability – including SLAC Precision Engineering and its own supply chain for subcontract services and materials.
WHY SGS?
Alun approached several vendors, including the one used by his previous employer. He selected SGS mainly due to its excellent reputation, but also the fact that their communication was exceptional from first receiving a quote to gaining certification. Another consideration was value for money, including absence of the management fee commonplace with competitors.
IMPLEMENTING ISO 9001:2015: THE PROCESS
Alun's first task was to establish the Quality Management System (QMS), for which the draft was completed before the company was formally set up. This was modified over the next few months according to the new company's business processes and additional knowledge acquired.
Stage 1 of the audit – which took place in December 2018 to determine SLAC Precision Engineering's readiness for the Stage 2 certification audit – resulted in a very small number of opportunities for improvement being notified. Stage 2 – carried out in January 2019 – took a day and involved close scrutiny of the entire QMS. The audit was successful with no further advisory points and Alun received the certificate two days later.
Alun found SGS to be very helpful throughout the process. He recalls that SGS Auditor John Stock had advised him in advance of the Stage 1 audit that it would not be easy for a one-person company to achieve.
HOW THE CERTIFICATION HAS BENEFITED THE BUSINESS
Certification to ISO 9001:2015 has provided SLAC Precision Engineering with an invaluable sales tool. Alun notified company contacts of the awarding of certification and just a day later, an order was received on the basis of this success.
He now has the confidence to offer the company's services to customers in a wide range of highly exacting industries including aerospace, motorsport, pharmaceutical, automotive, medical and oil and gas. At the time of writing, he is planning the purchase of additional, larger computerized machining equipment.
Alun's advice to small companies seeking accreditation: "Go through the QMS and make sure you have a thorough knowledge of it. Make sure there is a culture of quality – not just lip-service – throughout the business." He adds: "If you are a larger company, have a Quality Manager."
For further information please contact:
Freddie Wright-Jones
Business Support
t: +44 (0)1276 697715
ABOUT SGS
SGS is the world's leading inspection, verification, testing and certification company. SGS is recognized as the global benchmark for quality and integrity. With more than 97,000 employees, SGS operates a network of over 2,600 offices and laboratories around the world.