European Medical Devices Regulation (MDR) EU 2017/745 Update
The new European Medical Devices Regulation (MDR) EU 2017/745 will legally apply from May 26, 2020, and SGS, like all other Notified Bodies, will no longer be authorized to deliver CE certificates under the Medical Devices Directive (MDD).
As a result, SGS will guide its customers through the process of transferring their certificates from MDD 93/42/EEC to the new regulation. However, we will continue to support existing MDD certification until the end of their validity period – or May 25, 2024, at the latest – through specific MDD surveillance audits.
MDD Recertification Requests
In the coming months, as medical device manufacturers prepare their transition to the new regulations, some may request early MDD recertification audits to extend the validity of their CE certificates. However, rather than an additional interim MDD recertification audit, it is more effective for you as an SGS client to maintain your current MDD certification cycle, allowing maximum time to prepare for the transition. You should then progress to a new initial MDR assessment as soon as you are ready.
During the transition overlap period, SGS will need to support both the existing MDD and the new MDR. As a result, we will not be in a position to provide early recertification, except in exceptional circumstances. To meet the challenges of the transition period, it is likely that the majority of Notified Bodies will follow this approach.
For exceptional circumstances, where earlier recertification is required, your SGS Delivering Office must contact the Notified Body to discuss possible options. Earlier recertification will seriously impact the resources of both the Notified Body and the medical manufacturer. As a result, it should only be considered as a last option for specific cases.
SGS is currently undergoing the MDR Notified Body (NB) designation process. It is expected that this process will be complete by the end of 2019. Once we are designated as an MDR NB, we will be authorized to conduct MDR certification audits and technical documentation reviews. We will also continue MDD audits and technical file reviews until November 30, 2019.
After this date, no new MDD activity, such as certification or extension to scope, will be conducted. This will allow adequate time for finalizing activities, including CAR closing and certification review, as we move towards the final deadline for MDD on May 25, 2020.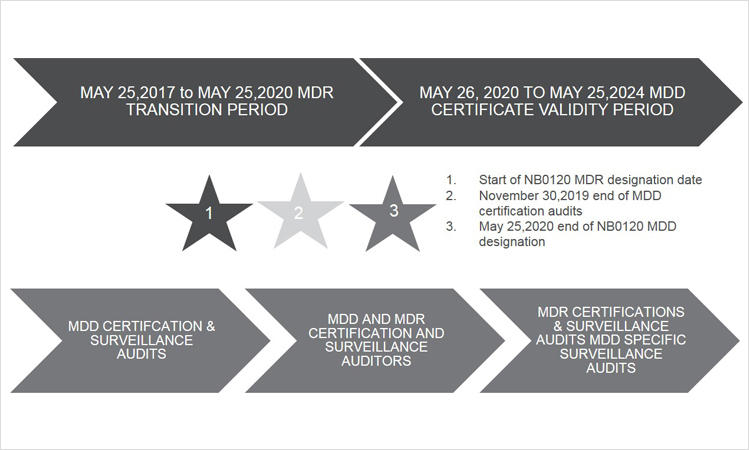 MDR and MDD Timeline
To find out more about the European Medical Devices Regulation (MDR) transition and to discuss your requirements, please contact us today.
For more information, please contact:
Alexander Oxford
Client Relationship Executive
SGS United Kingdom Ltd
t: +44 (0)1276 697715
About SGS
SGS is the world's leading inspection, verification, testing and certification company. SGS is recognized as the global benchmark for quality and integrity. With more than 97,000 employees, SGS operates a network of over 2,600 offices and laboratories around the world.