China GB Product Standards Labelling
In recent years The People's Republic of China has introduced comprehensive minimum performance standards for textile and leather apparel, footwear and accessories. These have become known in the UK as "the China GB Standards".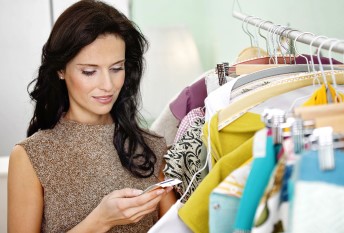 Compliance with these standards is mandatory and if your company wishes to trade your goods in China, you will have to meet these standards and label the goods correctly.
China is a huge potential market for European producers and the rewards are potentially vast.
The penalties for non-compliance can be severe!
There are basically 3 steps to compliance for textile apparel:
Compliance with the basic standard:

GB 18401 for apparel
GB 31701 for baby and children's clothing

Compliance with the product standard
Labelling:GB 5296.4

Permanent label
Swing tag
The most frequent problems encountered by foreign companies concern incorrect or incomplete labelling.
The permanent label must have 3 things and they must be in Simplified Chinese:
Size – using the Chinese sizing scheme
Fibre content
Care symbols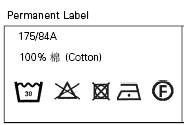 The swing tag must have all the same information plus additional information as below: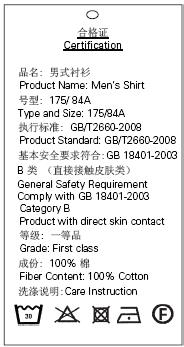 One of the common pitfalls encountered by European companies is identifying the "Product Code" – e.g. Men's shirt - in the above example.
As can be seen, the Product Code in this case is GB/T 2660:2008. This is a specification for shirts and blouses and contains the minimum performance requirements for this product type.
It has long been said that this is not a mandatory requirement and that only GB 18401 is mandatory. This is not the case. In order to sell in China, there must be a Product Code on the item and the item must meet the minimum performance requirements of that Product Code.
What can SGS do for you?
To help would-be sellers, SGS has produced a helpful web tool to identify the correct Product Code, ensuring that they complete the correct level of testing and provide the assurance that they will meet the required performance level.
Led by SGS' Global and China team, the company has developed this new tool to allow users to filter different products, features, items, and materials to identify which Chinese National Standards are related to the specified products.
Understanding the complications of navigating the Chinese market and its national standards, SGS continues to seek the best and easiest way to help clients achieve their business goals. The China Product Standards Selection Tool serves as a starting point for clients to identify which product standards to look for before choosing the best testing plans to ensure product compliance.
The China Product Standards Selection Tool is free and accessible in English by approved clients. The platform will be updated throughout the year with new regulatory changes on textile and apparel products.
Register for an account on the digital platform today.
For more information, please contact:
Rob Croskell BTech CText FTI
Softlines Specialist
SGS United Kingdom Ltd
t: +44 (0)1379 668625
m: +44 (0)7730 544718
About SGS
SGS is the world's leading inspection, verification, testing and certification company. SGS is recognized as the global benchmark for quality and integrity. With more than 97,000 employees, SGS operates a network of over 2,600 offices and laboratories around the world.