Linen Supplies and Group Purchasing - Questions for Hoteliers and Housekeepers
Vast quantities of bed linen, table linen, towels and bathrobes are purchased annually in the hotel industry. How do you know your purchase is going to perform to your standard, and give you the useful lifespan you expect before holes appear or piling develops on the surface, and customers start to mutter that standards are slipping?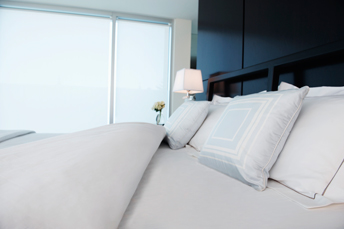 Do you, the buyer, have your own specification for these things or do you rely on your supplier to offer the best product for your end use?
Does your supplier understand your market?
Does your purchasing department understand your market?
How many purchasing and tender decisions are made on [the lowest] price alone?
Are these questions even asked?
We are all aware that it is a very competitive market out there, but we should also be just as aware that the consumer has more opportunities than ever before; through social media and comparison websites, to complaining publicly about places they have stayed.
SGS can help - having years of experience in the business of testing textile materials' fitness for purpose, we can advise buyers on the minimum requirements for the specific end use or we can produce written specifications by product type so that you have a permanent reference document to use as a basis for purchasing the right product for you.
"When you need to be sure" - SGS is just a phone call or email away.
For further information please contact:
Robert Croskell BTech CText FTI
Softlines Specialist
t: +44 (0)1379 668625
m: +44 (0)7730 544718
ABOUT SGS
SGS is the world's leading inspection, verification, testing and certification company. SGS is recognised as the global benchmark for quality and integrity. With more than 95,000 employees, SGS operates a network of over 2,400 offices and laboratories around the world.