Tidyco Achieves International Quality Certification
Derby based Tidyco is celebrating after recently being presented with ISO 9001:2015 certification during a ceremony at its headquarters this week.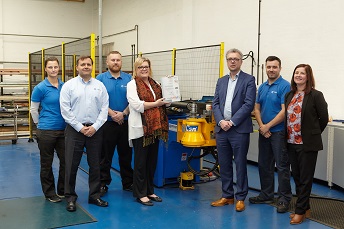 By confirming its commitment to having a best in class Quality Management System (QMS), this significant achievement is part of the company's continuing efforts to set the standard in an increasingly competitive market.
As a leading supplier of hydraulic and pneumatic products and services to the rail sector for over 40 years, Tidyco also works closely with defence, utilities and manufacturing organisations in over 50 countries across the globe. Tidyco has held ISO 9001 for over 15 years, which was originally the responsibility of James Tidy, who was Tidyco's QA Manager prior to becoming managing director 3 years ago. This QMS was updated in September 2018 to include some new key features that have been designed to benefit all businesses and help them to identify opportunities for improvement and effectively manage and measure performance.
Certified through SGS, the world's leading inspection, verification, testing and certification company, a rigorous audit was conducted on Tidyco' s QMS to assess the organisation's dedication to the on-going improvement of its processes. As a result, the scope of its ISO 9001:2015 certification covers the design, manufacture, supply and of hydraulic and pneumatic hose assemblies, hydraulic jacks, rams, and other equipment and accessories – as well as a fully equipped workshop able to repair or overhaul all of the aforementioned products.
'A desire to operate to the highest standards is consistent throughout everything we do and ISO 9001:2015 rubber stamps our operational credentials,' explained Philip Mason, Tidyco's production director. 'This leads to better integration and cooperation amongst our stakeholders – from the shop floor to senior management – and helps to define a standard of operation that always exceeds our customers' expectations. To ascertain the effectiveness of this approach, the SGS auditor spent time with representatives from across the business who helped configure our quality management system, namely our shop floor manager, Liga Aldermane, stores manager, Joe Rowe, and Jason Bembridge, a recently qualified apprentice.'
Its dedication to producing components of the highest quality led to Tidyco purchasing a new tube bending technology – part of an on-going investment programme that allows it to control the production process in line with the requirements of ISO 9001:2015. This state-of-the-art computer numerical control (CNC) based automated tube-bending machine was part funded by the University of Derby's Invest to Grow programme that provides grants and loans to support businesses across the East Midlands to innovate and create jobs. This investment has proven so successful that Tidyco are well on the way to making a full return on its outlay within the first 12 months, while allowing shop floor personnel to enhance their skills and provide customers with a more agile and responsive service.
'Not only does ISO 9001:2015 allow us to focus on the quality of product that we manufacture, it also helps to ensure that customers consider us the hydraulic and pneumatic solutions supplier of choice,' concluded Tidyco' s Philip Mason. 'Our culture of continual improvement is vital in maintaining a market leading position and our determination to grow the company also means that we are able to contribute to the economic success of the region. I would therefore like to congratulate the team for all the hard work that has gone into achieving ISO 9001:2015 certification and thank SGS for its support and guidance throughout the process.'
For more information, contact:
Freddie Wright-Jones
Marketing Co-ordinator
SGS
t: +44 (0)1276 697881
ABOUT SGS
SGS is the world's leading inspection, verification, testing and certification company. SGS is recognised as the global benchmark for quality and integrity. With more than 95,000 employees, SGS operates a network of over 2,400 offices and laboratories around the world.