ABB FIA Formula E Championship Receives ISO 20121 Certification from SGS
ABB FIA Formula E Championship has been awarded an ISO 20121 certificate for its sustainability event management system – becoming the first category in motorsport to achieve this certification.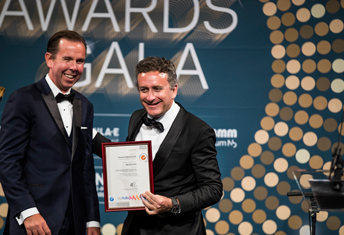 SGS provides ISO 20121 audits to help organsations enhance the sustainability of event-related activities, products and services by pursuing objectives that include financial success, sound social responsibility strategies and activities, and the reduction of environmental footprint. The standard is currently considered the most demanding in the world in terms of sustainability during the organisation of a sports event.
To attain this certification, Formula E underwent a thorough audit process. The audit examined the organisation's holistic approach to sustainable event management. This included:
Its implementation of a waste management system
Continued efforts to source sustainable suppliers
The championship's legacy program
Community engagement projects to ensure social inclusivity and economic prosperity
Christopher Malone, Vice President Certification and Business Enhancement at SGS in North America, presented the certificate to Formula E Founder and CEO Alejandro Agag at this year's Formula E end of season awards gala. When asked about the significance of the award, Malone stated, "There is an increasing demand for sustainability best practice in the industry. Organisations are looking at cost-effective alternatives to the current event planning norms. The benefits of this certification include potential reduction in costs through energy saving, materials efficiency, and more effective waste and risk management."
Agag said, "I'm very proud of the hard work Formula E has put into receiving third party ISO 20121 certification – the highest award in sustainable events. The achievement is a testament to our entire ecosystem working toward a common goal of continuously improving our sustainability credentials and working with our supply chain at events to inspire others to make a conscious effort in minimizing the impact on the environment. I look forward to other sports and categories of racing taking inspiration from the ABB FIA Formula E Championship."
SGS International Sales Manager for Formula E, Daniel Curling, pointed out the business impact of this certificate, "Formula E has shown true leadership and innovation by achieving this certification and has become the new benchmark for sustainable event management in motor sport. We are happy to partner with them in achieving this certification."
"The FE Sustainability team exceled in the integration of sustainability across all the company areas and the results are very positive," said Ana Inacio, SGS Auditor.
SGS will continue to help organisations, venues and events to improve their environmental performance and demonstrate their commitment to sustainability.
For more information, please contact:
Heather Furby
Client Relationship Executive
SGS
t:
+44 (0)1276 6976347
ABOUT THE ABB FIA FORMULA E CHAMPIONSHIP
The ABB FIA Formula E Championship is the electric street racing series and the world's first fully electric international single-seater category in motorsport. Formula E brings electrifying wheel-to-wheel action to some of the world's leading cities, racing against the backdrop of iconic skylines such as New York, Hong Kong, Paris and Rome.
Formula E is more than just a race to be the best – it's a competitive platform to test and develop road relevant technologies, helping refine the design and functionality of electric vehicle components and speeding-up the transition and uptake of clean transportation on a global scale.
ABOUT SGS
SGS is the world's leading inspection, verification, testing and certification company. SGS is recognized as the global benchmark for quality and integrity. With more than 95,000 employees, SGS operates a network of over 2,400 offices and laboratories around the world.