ISO 22301 Certification Helps DHL Global Forwarding Resume Operations After Hurricane Maria
In September 2017, Hurricane Maria hit Puerto Rico. With wind speeds reaching 175 miles per hour, Maria left the island without electricity and drinking water. Voice and data communications were down, and the only airport was closed.
Following the hurricane, DHL Global Forwarding (DGF) became the only global forwarder to resume operations on the island in a timely manner. Compliance with the requirements of ISO 22301 Business Continuity Management enabled DGF to quickly resume shipments to Puerto Rico, delivering food, water and medical equipment.
ISO 22301 ensures that an organisation has an effective business continuity management (BCM) system in place. According to Richard Skipsey, SGS Global Product Manager – ISO 22301, SGS first certified DGF in 2014, and has performed annual inspections to confirm the company's continued compliance.
With an effective BCM, DGF was able to begin preparing for Maria's impact on 17 September, when it began heading toward Puerto Rico as a tropical storm. On that day, the DGF San Juan (SJU) station's personnel contact list was confirmed and its power generator was tested. The station's Incident Management Team (IMT) reviewed all necessary business resumption critical activities and placed Agility Recovery Services (Agility), with which DGF has an emergency contract, on high alert.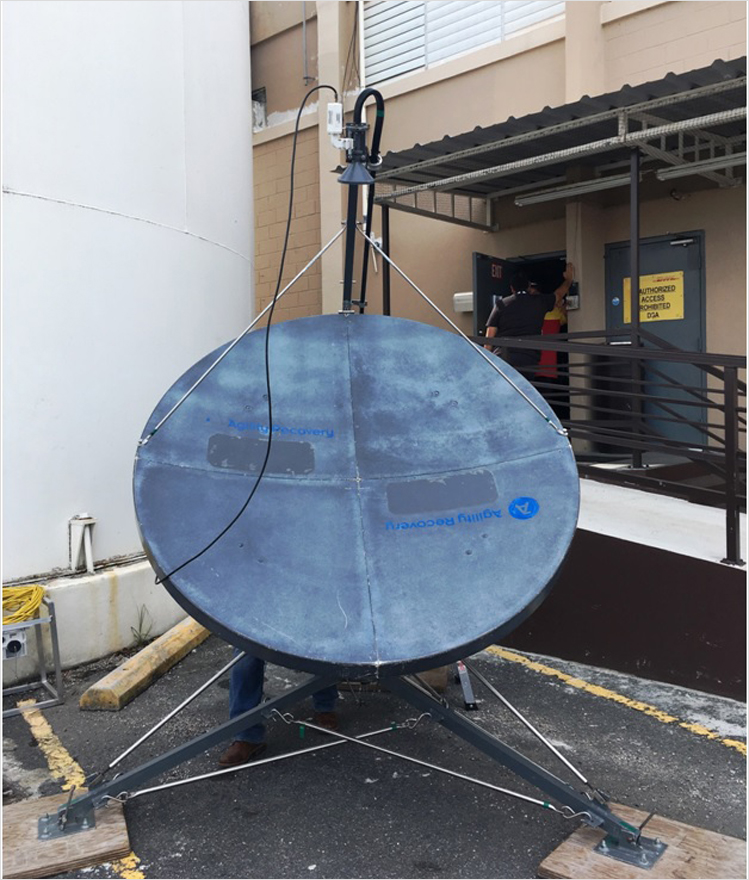 Agility satellite dish installed at DGF SJU
Maria hit Puerto Rico as a category four hurricane on 21 September. Partial operations were resumed at the station on 22 September, and between 22 September and 27 September, all SJU station employees were contacted and confirmed as safe.
DGF's ISO 22301 certified Business Continuity Plan (BCP) was activated on 25 September. DGF Disaster Recovery Team members were deployed to Puerto Rico. Agility provided DGF with a satellite internet link and a satellite receiver. This provided a vital connection allowing services to resume. Direct telephone access was restored to all DGF departments on 9 October.
By complying with ISO 22301, DGF was able to quickly resume its forwarding service and bring vital supplies to the people of the island.
Enrique Gonzalez, Regional Head of Business Continuity Management DGF Americas, said "Customers shipping to and from Puerto Rico were delighted that the forwarding service was resumed so quickly."
For further information, please contact:
Yemisi Olutogun
Client Relationship Executive
t: +44 (0) 1276 697634
About SGS
SGS is the world's leading inspection, verification, testing and certification company. SGS is recognized as the global benchmark for quality and integrity. With more than 95,000 employees, SGS operates a network of over 2,400 offices and laboratories around the world.