SGS Baseefa Publishes Hassle Free Guide to Flameproof Design and Certification
Testing and certification of flameproof hazardous area equipment is a specialist field, and SGS Baseefa has a longstanding history in it, having certified thousands of products over the past 90 years.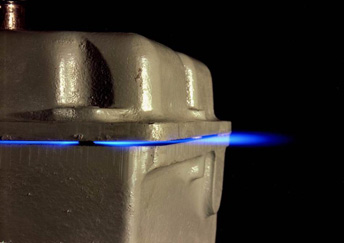 To help provide support to customers with their flameproof equipment, the experienced team at SGS have prepared a comprehensive guide to the design, testing and certification of Ex d equipment.
The 12-page guide has been carefully prepared to assist engineers and manufacturers in the design of flameproof equipment that will satisfy the requirements of IEC 60079-0 and IEC 60079-1. It will help readers to understand key aspects of the standard and proceed to provide meaningful documentation during the certification phase.
Much investment in equipment and people has taken place recently in order to make considerable improvements to flameproof testing timescales and to ensure that SGS's capacity continues to match customer needs. The aim of this guide is to help manufacturers in their preparations for their Ex d certification projects, in order to further reduce the time to certification.
If you have any questions, or are interested in discussing any requirements that you may have, please contact:
Carolyn Featherstone
Internal Sales Administrator
t: +44 (0) 1298 766600
Andrew Bellman
Certification Manager
t: +44 (0) 1298 766633
About SGS
SGS is the world's leading inspection, verification, testing and certification company. SGS is recognized as the global benchmark for quality and integrity. With more than 90,000 employees, SGS operates a network of over 2,000 offices and laboratories around the world.