Benefits of Corporate Training: Face-to-Face and eLearning
There is a dilemma at the heart of modern business: employees need to be kept up to speed on developments in technology, standards and regulations, and yet only one percent of the working week is devoted to training. How can companies undertake effective staff development in today's business culture?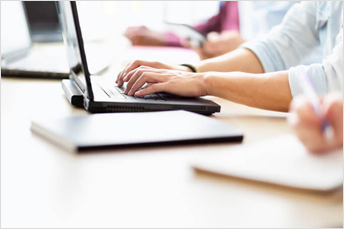 The demands on the modern worker are very different to those of a few decades ago. It is estimated that approximately thirty percent of employees now work at multiple sites, sometimes in remote locations. Many businesses actively encourage working from home and flexible working practices to support employees who are looking for a better work/life balance. Within this business culture, traditional training and development channels very often don't work.
Business leaders are now acknowledging that a happy employee becomes a long-term member of staff. A key tool in the creation of the 'happy employee' is the ability to provide continuous support and training. This principle is backed-up by research in the UK, which showed 74% of UK workers felt they had not reached their potential and wished they were receiving more job training. A second study, conducted in Canada, revealed that around 40% of employees, who did not receive adequate training, left their posts within a year. 1
For businesses, workforce development can be the difference between success and failure. 2 So, if business success is linked to training and development, why do so many employees report they are dissatisfied. The problem is not necessarily investment. For example, the 2013 Corporate Learning Factbook reported that US businesses spend more than $60 billion a year on employee development. On average, however, only one percent of the working week is devoted to training.
The problem may not be, therefore, the willingness to train but the approach to training.
Face-to-Face
While many things can be done virtually in the digital age, physical interaction remains one of the best ways to learn. Communicating and developing relationships through personal interaction is one of the key reasons face-to-face learning continues to be a preferred methodology. Learners gain from the depth of information and experience that is imparted to them by the tutor. Tutors will have many years of experience in their field, which will enrich their tutorials in a way online learning cannot. This personal element allows learners to ask questions and receive an immediate response in the verbal language and style that they are comfortable with, therefore avoiding any problems of miscommunication or misinterpretation.
eLearning
Research shows that 70% of employees use search engines to learn on the job and most people habitually use their smartphones to answer unexpected questions. Accessing information online has become the norm for many people and, with the traditional model for training no longer appropriate in modern businesses, it is natural for companies to turn to eLearning to fill the gap.
The flexibility afforded by eLearning means it provides a number of benefits to both the employee and the employer.
For the employee, it:
Personalises the learning experience
Gives them control over when, and how, learning takes place
Aligns with their daily schedules for accessing information
Provides a greater sense of connectivity, especially relevant for employees working in isolation or in remote locations
For the business or organisation, it:
Makes it easy to reach staff at multiple locations
Provides trackable and measurable results
Delivers training that upskills employees
Ties learning into behavioral changes and business results
A Mixture of Both – Blended Learning
Organisations need to be willing to change the way they train their staff if they are to succeed. Josh Bersin cites the examples of Nokia and countless search engine businesses, who held highly trained workforces but were finally out-innovated by the business cultures at Apple and Google. 2 These companies developed training cultures that progressed the individual and the business, adapting to the changes around them.
For many organisations, the answer to successful training will be blended learning. Companies are able to choose the balance, ensuring alignment with both the requirements of the business and their employee's needs, using a combination of traditional and high-tech learning solutions. The workforce then receives the training it needs, but in a format that is less stressful and more appropriate to their working lifestyle.
A face-to-face tutor can help further develop knowledge gained through eLearning by adding real-life examples, gained from personal experience. The tutor can also ensure new knowledge is being implemented in a manner that is suitable for the learner and the business. During this process, the tutor, as the conduit between employer and employee, is also able to assess the success of the learning solution for each student. The freedom to learn in this way has been shown to develop a more self-sufficient and result-orientated workforce. 3
The world of corporate training is changing, just as the work environment is changing. With staff no longer situated at one location, and with an increasing dependence on online resources, companies need to adapt the way they train to meet these new challenges. Companies, such as SGS, are developing a range of options to provide training that works around both the needs of the employer and the needs of the employee. Flexibility is key, as everyone is an individual and every business has a different culture. eLearning will provide employees with a more conducive studying environment that fits around their normal habits but, at the same time, the use of face-to-face training, drawn from the more traditional forms of instruction, will help employees to utilise their learning effectively.
For more information, contact:
Amanda Mangan
Global Training Manager
t: +44 (0) 1276 697707 / 06
References:
About SGS
SGS is the world's leading inspection, verification, testing and certification company. SGS is recognized as the global benchmark for quality and integrity. With more than 90,000 employees, SGS operates a network of over 2,000 offices and laboratories around the world.