From Laundry to Plate Revisited
In recent years there has been growing concern about plastic waste in the environment. In water courses from streams to major rivers and in the oceans, plastic waste has been accumulating. Plastic bags, for example, may be mistaken for food by some aquatic animals but more insidious are the smaller plastic particles which are unconsciously consumed by the smaller aquatic organisms, which in turn are digested by the larger ones and so on until you and I eat them. The accumulation of such debris carelessly disposed of by human beings in rapidly growing quantities since the 1950s is set to cause us all damage in one way or another. As a guide, plastic production was about 1.9 tons in 1950 and by 2013 it had reached 330 million tons!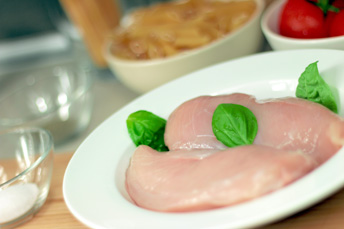 Many countries have put in place legislation to restrict the use of plastic bags which will have some impact, but a growing number of authorities from city and state level to national governments are considering legislation to reduce plastic materials, especially micro plastics in consumer products such as cosmetics and toothpaste.
In the textile world, micro plastics are liberated during laundering when fibres, fibre particles, sequins, glitter and other decorative plastic materials are removed from the item and "washed away" down the drain. Some of this fibrous material is cotton, linen and wool which are biodegradable but it is feared that the majority is synthetic material which is not biodegradable. Unfortunately, "washed away" is not strictly correct, these particles are exhausted from the washing machine with the waste water which then goes for treatment and subsequently into the environment. How much of this micro plastic material is generated in this way and how much is removed from the waste water by conventional treatment is not known, but it is certain that some, if not all gets through and adds to the burden in the waterways and oceans and from there to the food chain. See SafeGuardS No. 061/17 April 2017.
To compound this problem research shows that plastic particles can attract and absorb toxic chemicals from the aquatic environment increasing the potential danger to health.
There are many unknowns here and as always, forewarned is forearmed. There is clearly a need to put figures to these unknown quantities before a strategy for reduction can be formulated and before any improvement can be evaluated.
To cope with the emerging environmental concerns about fibrous micro plastics, SGS is developing a new testing service in our Hong Kong facility which we hope will assess the amount of micro fibre released from each end-product during domestic laundering. This analysis can then be used to pinpoint and compare the fibre-releasing properties of garments. Also it can be used for assessing and comparing the processing parameters that may affect the amount of micro plastic released.
For information about how to arrange testing, please contact:
Rob Croskell BTech CText FTI
Softlines Specialist
SGS United Kingdom Ltd
t: +44 (0)1379 668625
m: +44 (0)7730 544718
ABOUT SGS
SGS is the world's leading inspection, verification, testing and certification company. SGS is recognized as the global benchmark for quality and integrity. With more than 90,000 employees, SGS operates a network of over 2,000 offices and laboratories around the world.