Bringing Clarity to the Marketplace: SGS Launches The SGS Independently Checked Mark
SGS has launched the SGS Independently Checked Mark, an innovative way for manufacturers and retailers to generate confidence and trust among consumers, and bring transparency to the complex world of product testing and regulation compliance.
Currently available for all non-food consumer products the SGS Independently Checked Mark demonstrates that a product has been independently tested by a third-party laboratory. Manufacturers and retailers can choose to test products against one or more of the initiative's six testing criteria: quality, performance, durability, functionality, usability and workmanship.
The SGS Independently Checked Mark delivers:
Competitive advantage – products have to fulfil legal requirements, national and international standards. The mark is highly visible and and provides easy access to understandable information for consumers who are seeking products with quality, performance and safety
Transparency – product information is easily accessed by scanning a QR code, and it avoids counterfeiting
Quality – the SGS Independently Checked Mark is reviewed yearly to ensure that products continue to meet the requirements and regulations against which they have been tested and evaluated
Trust – the product has been independently and randomly sampled and is tested by an independent third-party to help gain trust from consumers, thus, it helps improve the brand image
Consumers want to know that the products they buy are safe and built to a good standard, but with a mass of approval, safety and quality marks available to manufacturers and retailers, the modern marketplace can be a confusing environment for consumers and they are often unsure of the merits of each scheme.
Rigorous Testing
Consumers know they can trust the SGS Independently Checked Mark because it is backed-up by a rigorous and structured program of testing, surveillance and transparency of information. Following the initial testing and approval for the product to carry the SGS Independently Checked Mark, the product will undergo market surveillance and testing at least once during the year to ensure continued compliance.
QR Codes
All products qualifying for the Independently Checked Mark will also display a QR Code, giving consumers fast and easy access to product data stored on the Independently Checked Mark Online Database while they are shopping. Access to this database affords a level of clarity previously unavailable to the ordinary consumer, and with greater transparency comes increased trust in the brand.
For manufacturers and retailers the Independently Checked Mark will help to simplify the world of standards' marks, help them differentiate their product in the marketplace and bring clarity from complexity.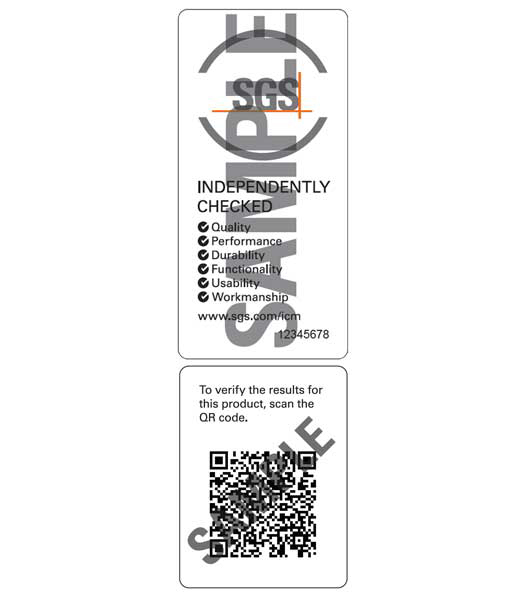 The SGS Independently Checked Mark
SGS Consumer Goods and Retail Services
From textiles to furniture, toys to electronics, and cosmetics to household products, SGS offers a complete range of services to test, assess, audit and verify the quality, compliance and safety of consumer products across global supply chains. With a global network of consumer goods labs and experts, SGS has a presence in nearly every single region helping companies to reach existing and new markets quickly and efficiently. Operating in a globally consistent manner SGS experts speak the local language and understand the local market. Manufacturers and retailers trust SGS to help them design, produce and sell safe, quality, conformant consumer products. Learn more about SGS's Consumer Goods and Retail Services.
For further information contact:
Stephanie Pionchon
Global Marketing Manager
Consumer and Retail
t: +33 4 42 61 64 46
www.sgs.com/cgnr
About SGS
SGS is the world's leading inspection, verification, testing and certification company. SGS is recognized as the global benchmark for quality and integrity. With more than 90,000 employees, SGS operates a network of over 2,000 offices and laboratories around the world.