Product Recall Trends in Electrical & Electronics: Q2 2017
Risk of electric shock remains the most common reason for electrical and electronic product recalls in the EU and USA in Q2, 2017.
Recalls increased slightly in the EU during the last quarter, up 4% to 81 products; while in the USA they reduced by 6% to 18 products. The main risk posed by all these products is electric shock, though in the USA this risk has been identified alongside the risks of fire and burning.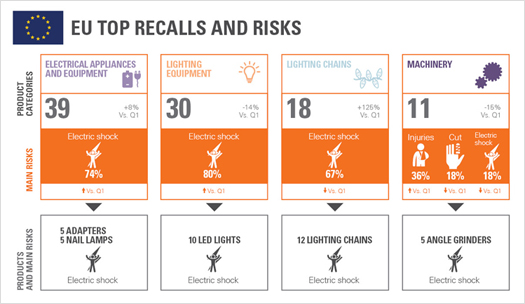 Download the full infographic to learn more >
Product Recall Trends provides a quarterly overview of the top recalled product categories and products, and the main associated risks, in the EU and the USA.
See more product recall trends:
ABOUT SGS
SGS is the world's leading inspection, verification, testing and certification company.  SGS is recognized as the global benchmark for quality and integrity.  With more than 90,000 employees, SGS operated a network of over 2,000 offices and laboratories around the world.