Outsmarting the Counterfeiters: The Importance of Brand Protection
With counterfeiting on the rise, what can brands do to protect their investment, their market share, and their reputation?
Between 2003 and 2014, we have seen a 586% increase in reports of counterfeited goods. This trend has also resulted in an astonishing increase in the number of product seizures. In 2001, there were less than 4,000 seizures, by 2010 this figure had reached 22,000, an increase of over 450%.
Counterfeiting is a global issue that jeopardises many industries. No continent or industry is free from the problems of counterfeiting. Counterfeiters goal is profit; nothing is sacred. Counterfeit baby milk, wooden toys, smartphones, prescription medicines and even chocolate bars have been found all around the globe. Every business needs to be aware of the problems of counterfeiting. Figures from 2013 give an indication of the scale of the problem and the range of products being counterfeited.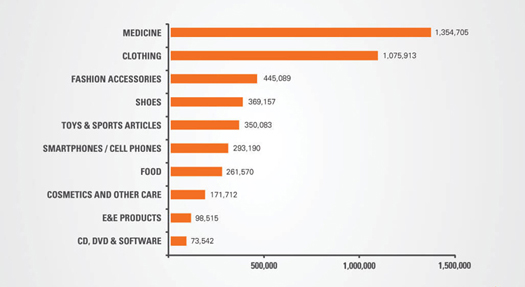 Figure 1. Key counterfeit seizures by product type (no. of items), 2013
According to the latest edition of "Transnational Crime and the Developing World", recently released by Global Financial Integrity (GFI), the global trade value of counterfeit and pirated goods is estimated to generate between US$923 billion and $1.13 trillion annually. Imports of counterfeit and pirated goods are worth nearly half a trillion dollars a year, or around 2.5% of global imports, with US, Italian and French brands the hardest hit. Many of the proceeds of counterfeiting go to organized crime, according to a 2016 report by the OECD and the EU's Intellectual Property Office. To put that into more comprehensible numbers: the global value of the counterfeit goods market is close to the size of Canada's GDP in 2016.
The Problem
Modern supply chains offer counterfeiters ample opportunities to introduce their fake goods. A retailer in Europe or America may be offering goods in good faith, unaware that the product has been substituted at an earlier stage. The outcome is always the same. The fake product will fail and this will reflect badly upon the brand. Brand damage never reflects poorly upon the counterfeiter or the manufacturer; it tarnishes the image of the genuine brand.
The problem is exacerbated by the opportunities afforded to counterfeiters by e-commerce. Brands may be able to protect the authenticity of goods sold through authorized distribution channels but they cannot easily control the sale of fake goods, sold as genuine, on the internet.
Countries are beginning to look at the problem of counterfeit goods. In France, for example, deterrents include five year's imprisonment and 500,000 Euro fines. But, without a single global approach to stopping the counterfeiters, there will continue to be industries and countries susceptible to counterfeiting.
Brand Protection: The SGS Solution
Businesses must be proactive and willing to protect their brands at all stages of the supply chain – from raw materials to the consumer. In addition, brands must find ways to communicate to customers the authenticity of genuine products that are available through their legitimate supply chains, and the inferior quality of fake goods offered elsewhere.
SGS provides a turn-key approach to brand protection; linking brands with individual products, retailers and the customer. From the supply of raw materials, to the retailer and the consumer, SGS assists brands by creating an affordable and scalable approach to beating the counterfeiters.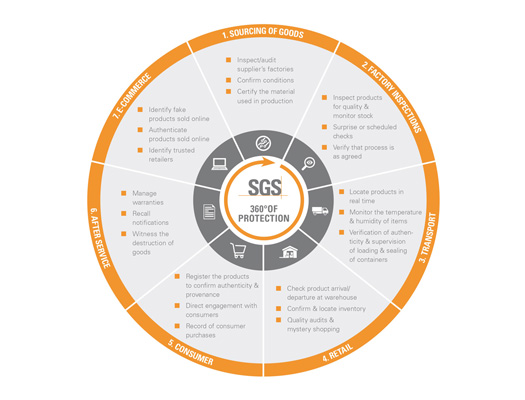 Figure 2. SGS's Solutions for Brand Protection
Backed by a global network of laboratories, SGS can initiate a program of inspections and audits designed to identify everything from substituted raw materials to entirely fake products.
Using track and trace technology, SGS helps businesses achieve unit-level traceability for their products. By using tracking technology, affixed to individual products at the manufacturing stage, every item can be tracked along the entire supply chain, giving complete visibility. In addition to safeguarding a product's authenticity, the technology also allows companies to monitor inefficiencies and identify potential weak points in the supply chain – points where counterfeit goods may enter and authentic goods are lost. The technology also allows consumers to interact with the brand, helping foster brand loyalty and reinforcing the importance of only buying products through proper suppliers.
SGS develops tailor-made and confidential programs to help companies protect their brands. This effort is supported with inspectors all over the globe and an auditing network covering 95 countries. Working through all distribution channels, both traditional retail and e-commerce, SGS can help businesses not only protect their brands but also foster brand loyalty among customers, manage supply chains and improve efficiency.
SGS's brand protection solutions help secure traceability, are affordable and scalable, and are simple to integrate. SGS offers the complete solution for protecting your brand. With SGS brand protection your brand can count on 360° of protection.
Read more articles from Consumer Compact >
Subscribe >
Follow us now on Linkedln >
For further information, please contact:
Franck Pandiani
Consumer and Retail
Global Manager, Brand Protection services
t: +33 1 41 24 86 61
Kymberli Stewart
Consumer and Retail
Global Sales Manager, Brand Protection services
t: +33 6 08 46 71 45
About SGS
SGS is the world's leading inspection, verification, testing and certification company. SGS is recognized as the global benchmark for quality and integrity. With more than 90,000 employees, SGS operates a network of over 2,000 offices and laboratories around the world.