Product Recall Trends in Hardlines: Q1 2017
Chairs, and the risk of falls from them, topped the US recall figures for hardlines products in Q1 2017. In the EU, toys remain the most recalled category, followed by children's equipment.
Hardlines recalls in the EU fell by 21% compared to Q4 2016; in the USA they increased by 2%. The risk of choking associated with toys increased in the EU, but dropped in the USA. Hobby and sports equipment recall increased too, both in the EU and USA – though for markedly different products. In the EU four airguns were recalled for a risk of damage to sight, while in the USA three bicycles were recalled due to the risk of a fall.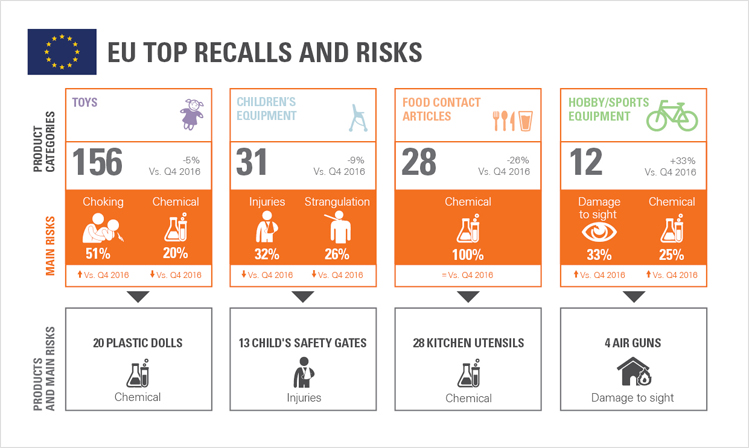 Download the full infographic to learn more >
Product Recall Trends provides a quarterly overview of the top recalled product categories and products, and the main associated risks, in the EU and the USA.
See more product recall trends:
ABOUT SGS
SGS is the world's leading inspection, verification, testing and certification company. SGS is recognized as the global benchmark for quality and integrity. With more than 90,000 employees, SGS operates a network of over 2,000 offices and laboratories around the world.