SGS Implements Digital Signatures for Product Conformity Assessment Certificates
SGS is now adding digital signatures to all of our electronic Product Conformity Assessment (PCA) PDF certificates.
This means that our customers now have access to genuine e-certification, proof that the certificate was issued by SGS and was not modified during its transfer.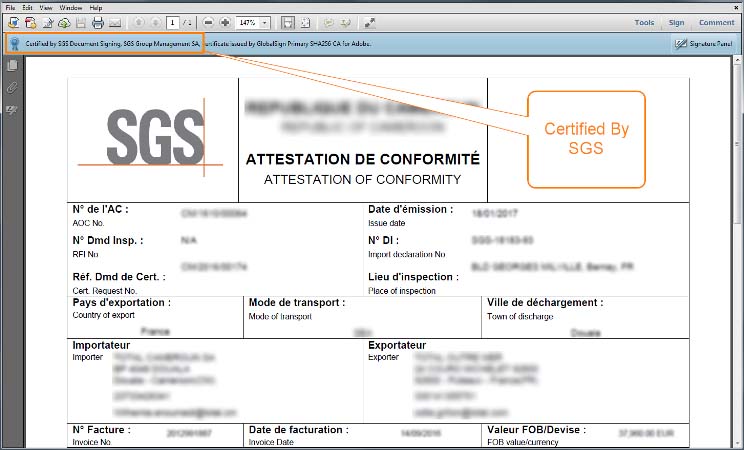 A digital signature is created on a Digital Signature Standard (DSS) server, which uses a special piece of hardware containing SGS identifying information to create the "Certified by SGS" signature and then add it to the PDF certificate. Once it is added to the certificate, the signature, which will appear as a banner in the PDF document, can be opened and verified by any Adobe Acrobat PDF Reader.
During the program's pilot phase, in January 2017, approximately 150,000 certificates were signed. As of February 1, all of our electronic PCA certificates have digital signatures.
For more information, please contact:
Governments and Institutions Services
François Savary
Business IT Director
t: +41 22 739 91 11
About SGS
SGS is the world's leading inspection, verification, testing and certification company. SGS is recognized as the global benchmark for quality and integrity. With more than 90,000 employees, SGS operates a network of over 2,000 offices and laboratories around the world.