World Standards Day 2016: Standards Build Trust
The 2016 annual international celebration for World Standards Day falls on 14 October.
An initiative of the World Standards Cooperation (WSC), the members of the IEC, ISO and ITU celebrate World Standards Day as a means of paying tribute to the collaborative efforts of the thousands of experts worldwide who dedicate their time and expertise to the development of international standards. The theme for World Standards Day 2016 is "Standards Build Trust".
Standards connect us with reliable modes of communication, codes of practice and trusted frameworks for cooperation. Introducing common interpretations on reciprocal sides of a communication or transaction, standards are essential to mutually beneficial trade and resource efficient international commerce.
Social interaction relies on common respect for fundamental sets of norms, concepts or meanings – international standards codify these norms to ensure that they are accessible to all. A product or service conforming to an international standard is imbued with a trusted symbol of quality, safety or compatibility. Standards speak to the diversity of our interconnected world, introducing uniformity at the interfaces where we need to be certain that we are speaking on the same terms.
As the world's leading inspection, verification, testing and certification company, SGS uses standards daily to inspect and test the quality of products, certify organisations and their processes and verify trade transactions. The services that SGS provides, ensures transparency on behalf of organisations and allow customers to trust that a service/product will live up to an organisation's promise.
Click here to download the infographic >>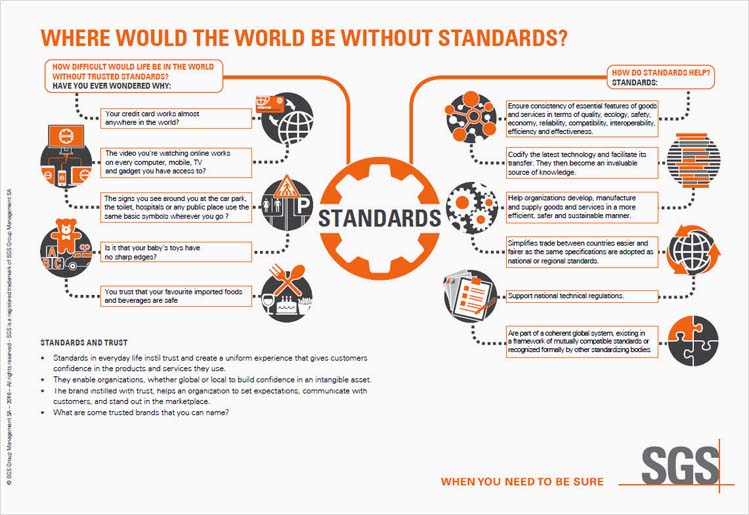 For further information, please contact:
Vivien Chan
International Marketing Manager
SGS S.A.
t: +603 2095 9200
About SGS
SGS is the world's leading inspection, verification, testing and certification company. SGS is recognized as the global benchmark for quality and integrity. With more than 85,000 employees, SGS operates a network of over 1,800 offices and laboratories around the world.