BRC CODE OF PRACTICE: Flammability of Children's Dress-up
The UK retail industry has been actively trying to ensure that dressing-up costumes are made even safer than they have traditionally been. This has come as a result of a high profile case, in which the daughter of a prominent British TV personality who was injured as a result of an incident involving a candle and a Halloween costume in 2014.
Through the British Retail Consortium (BRC) working groups of stakeholders including the British Standards Institute (BSI), various toy and textile testing laboratories including SGS, retailers and safety experts have together contributed to produce two Codes of Practice. The industry believes that these will complement the existing testing and labelling demanded by the current Toy Safety Directive, resulting in greater security for consumers.
In the first Code of Practice: "Method of Test for the Flammability Safety of Children's Dress-up", an enhanced testing regime based on EN 71-2 has been produced which includes additional procedures designed to address many of the perceived shortcomings within the existing method of test: EN71-2. The new procedure encourages the testing of materials including trimmings before the items are made so that manufacturers can be assured that the fabrics they use will be compliant. Additional features of the Code also allow for testing of materials e.g. trims, previously too small for the existing method and further, the new method requires the testing of material in both length and width direction to accommodate those garment patterns which use fabric cut across the grain.
The second Code of Practice: "Flammability Labelling of Children's Toy Dress-up" concerns the labelling of dressing-up clothes and suggests more prominent warnings and information regarding the additional safety testing outlined above.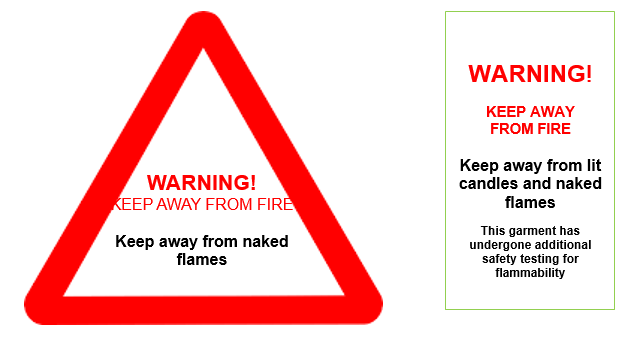 The above should be seen as voluntary codes of practice and an interim measure pending decisions at European level regarding the systematic review of existing methods of test.
The Codes of Practice themselves will be uploaded to the BRC website: www.brc.org.uk  in due course.
 For further information, please contact:
SGS United Kingdom Limited
Units 41 & 43,
The Listerhills Park of Science and Commerce,
Campus Road,
Bradford,
BD7 1HR
t: +44 (0)1274 303083
f: +44 (0)1274 303098