Children's Clothing Safety - Cords & Drawstrings
The reader might remember the now withdrawn Statutory Instrument No2 1976: Children's Clothing (Hood Cords) Regulation which was an early attempt to satisfy the Consumer Protection Act with regard to the risks to children's health stemming from cords around the face opening of hooded outerwear garments. This remained in place for many years in the UK until finally it was withdrawn by UK Statutory Instrument 1815 of 2012: the Product Safety (Revocation) Regulations largely because the UK government was simplifying legislation and because it had been superseded by the publication of EN 14682.
In 2000, the European Commission gave a mandate to begin work on a European standard; which would later become a harmonised[1] standard under the General product Safety Directive (GPSD), to address the concerns around the hazards posed by cords and drawstrings in children's clothing.
This was to be wider ranging than the UK Statutory Instrument and took 4 years to be published in its original form as EN 14682:2004 and a further 2 years before it was accepted as a harmonised standard. A year later, in 2007 a second version of this standard was published addressing the concerns of stakeholders but this took until 2011 before it was universally accepted and finally published in the Official Journal. During that time a European Technical Report: CEN/TR 16446:2012 was produced to give better guidance to stakeholders who wished to operate the standard.
In its most recent form, EN 14682:2014 was accepted as a harmonised standard quite quickly and its reference was published in the Official Journal in 2015.
So from this we can see that whilst it may have taken a long time for the European Community to get entirely behind the idea of such cords posing a hazard to children, it is now well established across the community and it is clear from the numbers of product Recalls published on Rapex[2] that national authorities are taking the risks seriously and enforcing the GPSD accordingly.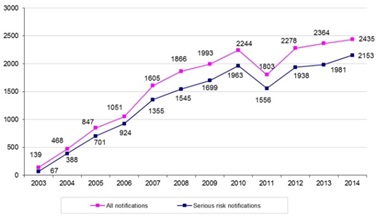 The latest figures at this time show that in the first 3 months of 2016 there have been 54 recalls of clothing items published on Rapex, of which 34 (63%) were in respect of cords and drawstrings. The majority of the balance was for chemical hazards such as Chrome VI and azo dyes with a handful recalled for loose parts creating a choking hazard.
You could be forgiven for thinking that the recent recalls were for cords which had been misidentified or misinterpreted by the Producer and were honest mistakes – we, at SGS have innumerable examples cross our desks each week where interpretation is needed in order to properly conduct the risk assessment, but those seen in Rapex most recently are clear violations in that they concern cords with free ends in the head and neck area and cords which are clearly too long or at the back. In the examples seen most recently there is no interpretation needed, this is just plain ignorance of the rules.
SGS has been publishing SafeGuardS[3] for many years and has published several on this one standard alone to give guidance to the industry on how to produce children's garments safely.

---
[1] Harmonised standard is one which gives the "presumption of conformity" to the General Product Safety Directive.