Cambridge Regional College Builds On ISO 14001 Success
Following certification to ISO 14001 in 2011, Cambridge Regional College continues to improve its environmental management, with the support of SGS United Kingdom Ltd. The college's most recent recertification audit took place on 1 September 2014.
Cambridge Regional College is a further education (FE) college delivering a full range of vocational subjects to 15,000 students.
Why the college wanted ISO 14001
After a successful bid for a European project on methods of construction and training in 2004, Cambridgeshire County Council spoke to the college about a partnership.
In April 2006 the college built the first of two SmartLIFE Construction Centres, for teaching sustainable construction methods and renewable energy techniques.
"In 2007 we appointed our first Environmental Officer to improve practices onsite as an employer, and increase our profile as a training provider in sustainability," says Chris Lang, Deputy Principal.
Cambridge Regional College is one of the few colleges in the UK to hold ISO 14001 certification for all its sites and operations.
SGS for added value            
By 2009 Chris Lang realised that formal certification would help increase the college's credibility.
"We tendered and appointed Abricon plc, an Environmental Consultancy Firm. Through the tender process, they recommended using SGS for ISO 14001 certification.
Since our first ISO 14001 audit in 2011, SGS has continued to provide added value by pointing us towards compliance good practice."
SGS last visited in September 2014, and Chris Lang is now considering six-monthly visits for the added value SGS provides.
Benefits of certification
The college is benefiting from:
Better management and formalised reporting of its environmental impact.
ISO 14001 enables the college's governing body to push for harder targets.
"In 3½ years the college has reduced utilities usage by 20%. Raising the issue at board level has helped to make the interventions," says Chris Lang.
Certification generates interest and profile on a national scale.
"We have the credentials. Some of the construction firms are very focused on ISO 14001, and they require it at tender. We've done a lot of work with them, and with other firms in the supply chain. Their people come into the college to train," adds Chris Lang.
Advice to others considering ISO 14001
Chris Lang suggests starting and building a formalised approach to environmental management.
"It needn't be grand, just some form of reporting to directors, with targets you monitor. Then move up to ISO 14001 to formalise it. Embed it in the organisation. It's a natural milestone in the process. Look at who's doing what, and get best practice advice," he says.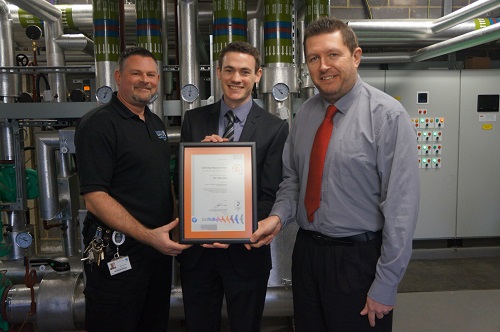 About SGS
SGS is the world's leading inspection, verification, testing and certification company. SGS is recognised as the global benchmark for quality and integrity. With more than 80,000 employees, SGS operates a network of over 1,650 offices and laboratories around the world.